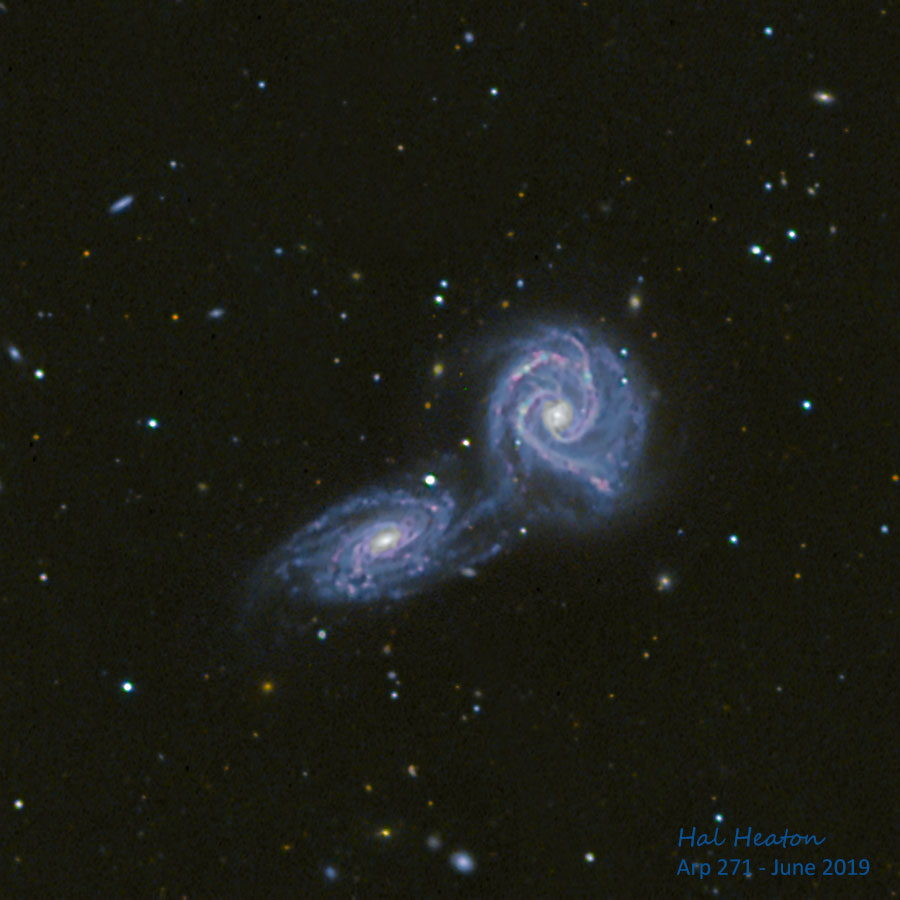 Photographer:
Hal Heaton
Email:
Location of Photo:
Arizona SkyCenter, Mt. Lemmon AZ
Date/Time of photo:
May 4 and June 3, 2019 (new moon)
Equipment:
0.8-m Schulman Telescope (f/7), SBIG STX (KAF-16803) camera equipped with an anti-blooming gate, 2x2 binning, Astrodon Gen II RGB filters.
Description:
This image of Arp 271, comprising the interacting galaxy pair NGC 5426 and NGC 5427 in Virgo, utilizes imagery acquired remotely from the 9157-ft summit of Mt. Lemmon. CCDStack v2 was used to form an RGB image by combining the means of largely unguided 15-min blue and green exposures taken on May 4th (the chosen guide star was too faint for use), with the mean of guided 10-min red frames from June 3rd. The total integration time in these three channels was 60, 65 and 50-min, respectively. PhotoshopCC 2019 was used subsequently to color a synthetic luminance image prepared from that result with the initial RGB frame, and to perform high-pass filtering, color-enhancement (lab-color-mode), star-shaping (due to the inclusion of non-guided images), artifact (e.g., residual dust donut) removal, noise filtering and application of a mild unsharp mask.