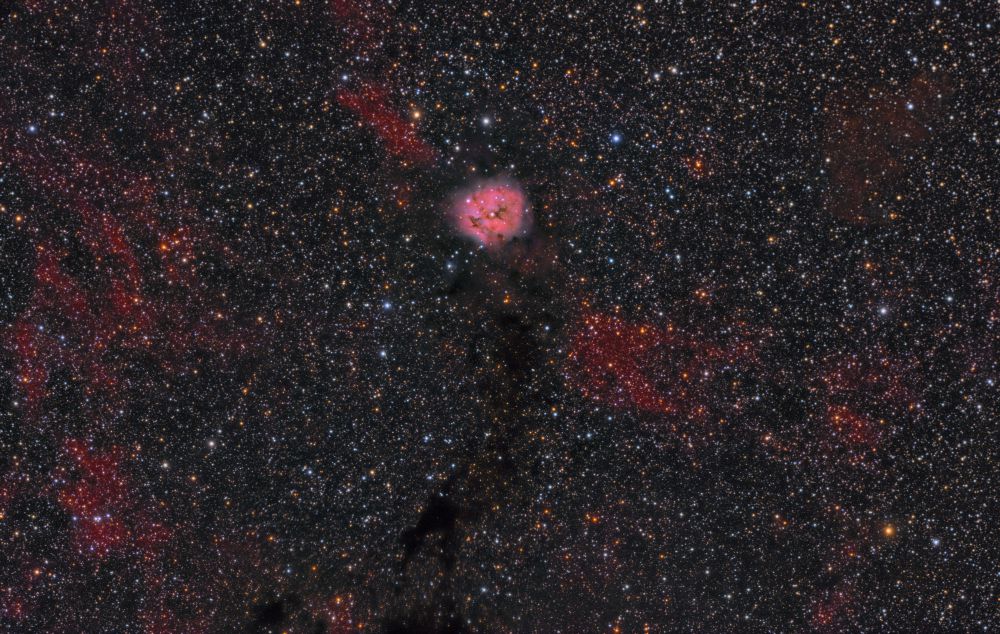 Photographer:
Vivek Chari
Email:
Location of Photo:
Outskirts of Dallas
Date/Time of photo:
May 25, 2020 , June 1, 2020 , June 9, 2020 , June 10, 2020
Equipment:
Stellarvue SV80 Access, Nikon D5300 (modded), Skywatcher EQ6R Pro, ZWO ASI290MM, Stellarvue SFFR-80A, Optolong L-eNhance 2"
Description:
The beautiful Cocoon Nebula has a dark stream of interstellar dust trailing right below it, and is bathed in faint regions of deep red Hydrogen Alpha gas. Located over 3000 light years away in the norther constellation of Cygnus, the cocoon hosts a cluster of hot, young stars that make the nebula's hydrogen alpha gas glow. However, these stars are slowly eating away at the nebula, resulting in the dark structures at the core. This rich wide field view showcases some of the faint background Ha in a sea of richly colored stars.