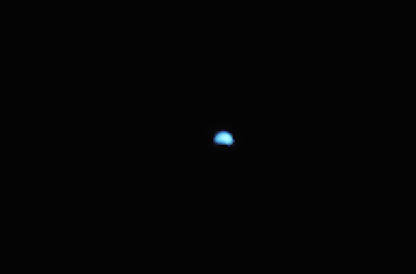 Photographer:
Jon Greif
Location of Photo:
La Jolla, CA, USA
Date/Time of photo:
May 1, 2020, at 2000 PDT
Equipment:
Celestron 8 inch SCT Reflector, Canon Eos 760D camera, Astronomik CLS filter, Pixinsight 1.8.8 software
Description:
Venus, seen here last evening in the Western sky, is getting pretty spectacular as it gets ready to round the sun and become a morning star. As it gets closer to the sun (as we see it), it gets bigger and brighter, but a smaller portion is lit, so that it takes on a crescent ("moon-like") appearance. Image is a stack of 20 at ISO 800 through an 8 inch Celestron reflecting telescope with a Canon Eos 760D camera and an Astronomik CLS filter. Hazy and cloudy, so not as sharp as I'd have liked. And, yes, it is blue!
Website: