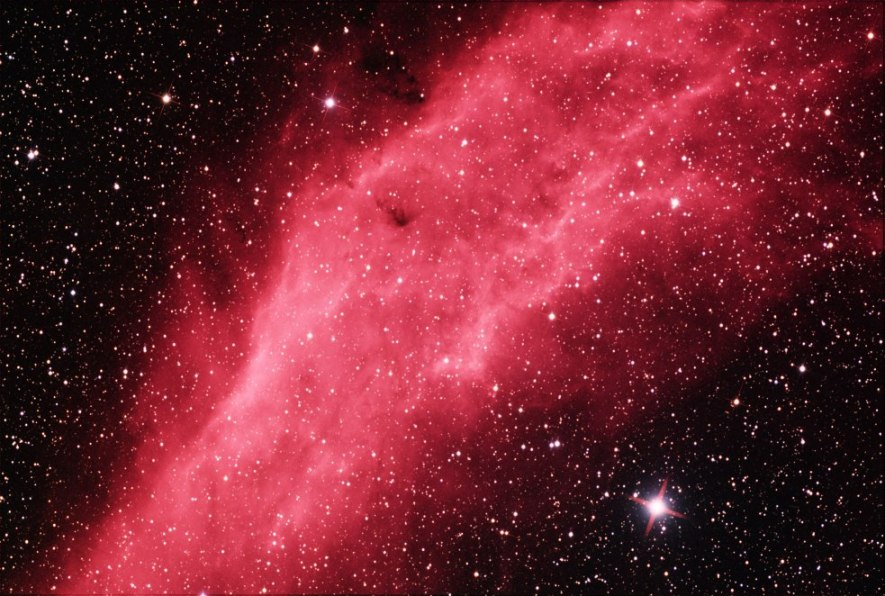 Photographer:
Kevin Smith
Location of Photo:
Lake Arrowhead, CA
Date/Time of photo:
10-8-10 from 10:30PM to 1:35AM PDT
Equipment:
Takahashi FSQ 106ED at F/3.6 with SBIG ST-10XME and Astrodon filters (Ha,L,R,G,B), on a Takahashi EM-200 mount. Guiding with SBIG external guider through Takahashi FS-60.
Description:
The California Nebula (NGC 1499) is an emission nebula located near the 4th magnitude star Menkib in the Perseus constellation. It stretches over 2 degrees of sky, and is approximately 1000 light years from Earth. This image is HaLRGB with exposure times of 30,30,15,30, and 25 minutes, respectively, using 5 minute sub-exposures at -23 degrees C. Acquired, calibrated (darks,flats, bias), aligned, and combined in Maxim DL, final processing in Photoshop CS2.