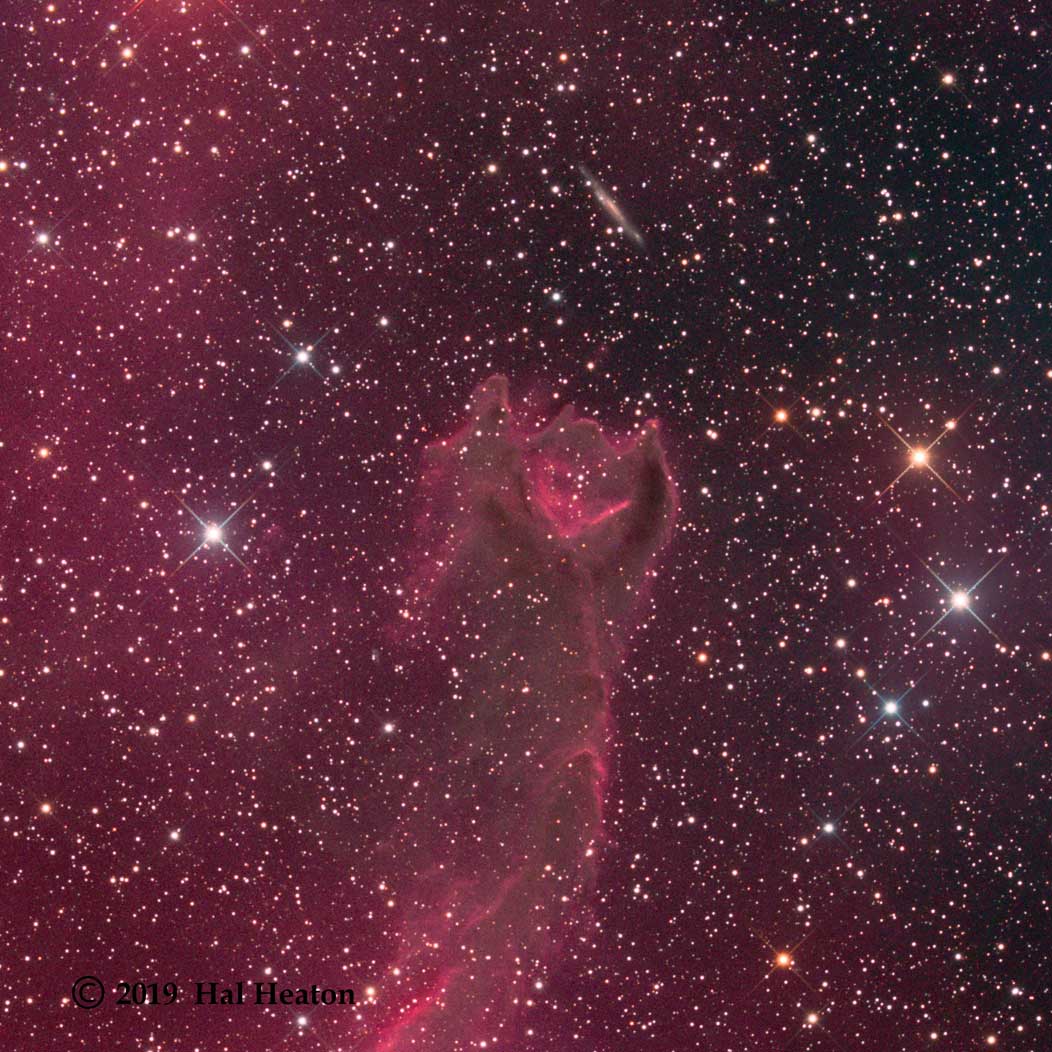 Photographer:
Hal Heaton
Email:
Location of Photo:
Chilescope
Date/Time of photo:
Prior to the nearly 3rd quarter moonrise on the nights of March 30 and April 26 2019
Equipment:
An FLI Proline 16803 CCD camera with an anti-blooming gate was used to acquire unbinned 10-min exposures through Ha, red, green and blue filters on Chilescope's 0.5-m Newtonian Telescope 2 (f/3.8)
Description:
More than 30 cometary globules exist in the Gum Nebula that generally have dense, dusty heads and long faint tails pointing away from the Vela OB2 association. The intricate structure in this Ha-enhanced RGB image of CG4, which probably originated from ablation of an opaque neutral cloud by the fierce winds and radiation fields from that association's massive stars, render it as one of the most striking examples. The serendipitous appearance of the nearly edge-on background galaxy ESO 257 – G019 (PGC 21338) pointing to a tight circlet of stars just above the globule's head adds to the drama of the image (east is up and north is to the right). Located in Puppis approximately 1300 lys away, the cropped field-of-view spans approximately 31.6 arcmin on a side, corresponding to 12.4 lys. After calibrating, registering, resampling, normalizing and data-rejecting each image using CCDStack v.2, mean images were formed from the R (40-mins), G, B and H-alpha (50-min each) band data, respectively. A preliminary RGB result was used to create a synthetic luminance frame, which was high-pass filtered and contrast-enhanced in Photoshop CC. Once the detail in both that and the red mean image was enhanced by blending them with the mean H-alpha image, a new R(Ha)GB frame was created that was used to color the processed synLum image. After adjusting the color in LAB-mode, its contrast was selectively enhanced again using soft-light blending of a masked version of that image with itself.