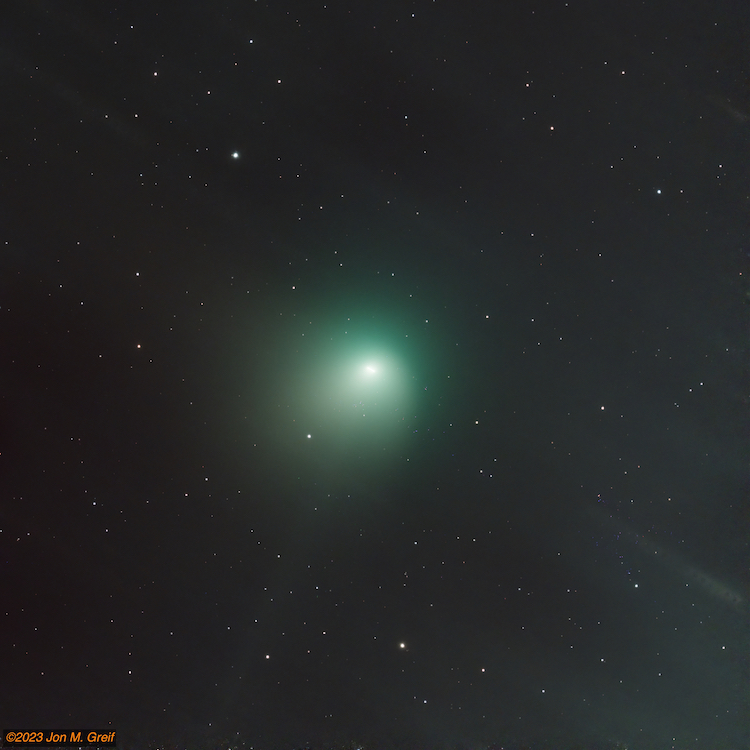 Photographer:
Jon Greif
Location of Photo:
La Jolla, CA, USA
Date/Time of photo:
January 31, 2023, at 10-11:30 pm PST
Equipment:
Takahashi FSQ-85ED with 1.01x flattener/reducer. ZWO ASI533MC Pro imaging camera. Optolong L-Pro filter. Rainbow Astro RST-135 Mount. ZWO 30mm Mini Guide Scope with ZWO ASI290 Mini guide camera. ASIAIR Plus controller. Processed in Pixinsight 1.8.9.
Description:
This image of "the Green Comet," C/2022 E3 ZTF, was taken from our deck in La Jolla (Bortle 7) on the night of January 31, 2023, one day before its closest approach to Earth, 26 million miles away, having rounded the sun in mid-January. This image consists of twenty 3-minute exposures (60 minutes of integration time) through an 85 mm Takahashi Refractor and was processed with tools from Pixinsight software. The green comet was discovered just one year ago by astronomers Bryce Bolin and Frank Masci using the Zwicky Transient Facility (ZTF) survey, which uses a 1.2-m reflecting telescope at nearby Palomar Observatory. The comet is now well on its way, and may either exit the solar system all together, or, at the earliest, return in several million years.
Website: