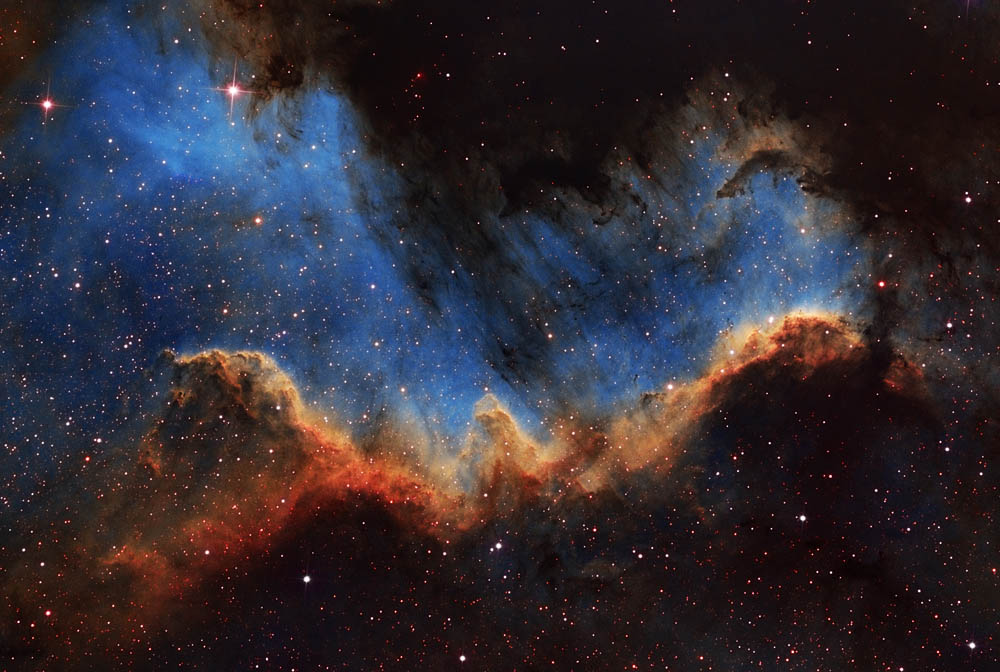 Photographer:
Impact011
Email:
Location of Photo:
Backyard, Ottawa, Canada
Date/Time of photo:
This photo was taken on June 27th 2019
Equipment:
Imaging telescope or lens:Sky Watcher 150/750 Sky Watcher Black Diamond Imaging camera:QHY163M Mount:SkyWatcher EQ6-R Pro (EQMOD) Guiding telescope or lens:Orion 60mm Multi-Use Guide Scope with Helical Focuser Guiding camera:Orion Starshoot Autoguider Focal reducer:Sky-Watcher Coma corrector f/5 Software:Sequence Generator Pro v3.0, PixInsight PinInsight 1.8, PHD Lab PhD 2 Guiding Filters:Baader 2" SII 7nm, Baader 2" OIII 8.5nm, Baader 2" HA 7nm Accessories:PrimaLuceLab Sesto Senso Robotic Focusing Motor, QHYCCD QHYCFW3-M
Description:
To create this picture I took total of 87 light frames using Ha, O3 and S2 filters. The total exposure was 9.9 hours. All captured frames were stacked and processed using PixInsight software. "Hubble" pallet was used to produce the color in the image.