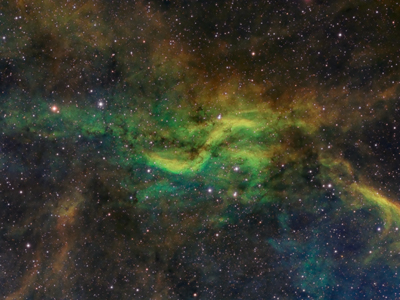 Photographer:
Craig & Tammy Temple
Email:
Location of Photo:
Hendersonville, TN, USA
Date/Time of photo:
June 19 - 21, July 7, 11 & 12, 2013
Equipment:
Telescope: Sky Watcher Quantum 120 Apo @ f/7 Accessories: SW Quantum matched flattener; Dew control by Dew Buster; Alnitak Flat-Man; Gerd Neumann Aurora flat panel Mount: Takahashi EM-200 Temma2 Camera: QSI583wsg CCD @ -10.0C Guiding: Starlight Xpress Lodestar via PHD Filters: Astrodon 5nm Ha, OIII, SII filters Exposure: 18 x 20min. binned 1x1 each in Ha, OIII, SII Acquisition: ImagesPlus 5.0 Camera Control Processing: PixInsight 1.8; Adobe PhotoShop CS5; Noel Carboni's Actions
Description:
The Propeller Nebula is an HII emission nebula in the constellation Cygnus. Not much is known about it. Information such as the source of excitation and distance remain undetermined. It is believed that its mass is quite low, probably less than 50 solar masses. There is obscuring dust associated with this peculiar structure, but seems to occur mostly in front of it. Designations for this nebula are DWB-111, Semeis 57 and MRSL 479.
Website: