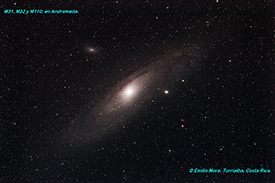 Photographer:
emora02
Location of Photo:
Santa Cruz de Turrialba. Costa Rica.
Date/Time of photo:
22 julio 2017.
Equipment:
9x5 minutos, calibradas con tomas dark y offset (bias), formato RAW, ISO 3200. Canon T3 modificada+AT65EDQ. Montura Orion Atlas EQG, autoguiada con Orion 50mm Guide Scope+Orion SSAG. Pre-procesadas con DSS 3.3.2 y procesadas con PSCS6 y PixInsight LE.
Description:
M31: Galaxia Espiral tipo Sb. La primera referencia existente a la galaxia de Andrómeda data del año 964 B.C., por el astrónomo persa Abd al-Rahman al- Sufi. Magnitud aparente +3,4. Tamaño angular 189x62 arco minutos. Distancia aprox. 2,5 millones de años-luz. Diámetro aprox. 140.000 años-luz. M31 es una galaxia espiral gigante y el objeto visible a simple vista más alejado de la Tierra. Tiene como compañeras las galaxias elípticas enanas M32 y M110. M31 y sus galaxias satélites son parte de nuestro grupo local de galaxias, que incluye además a la Vía Láctea, las Nubes de Magallanes, M33 (Galaxia del Triángulo) y unas 30 galaxias enanas, muchas de ellas satélites de las más grandes.