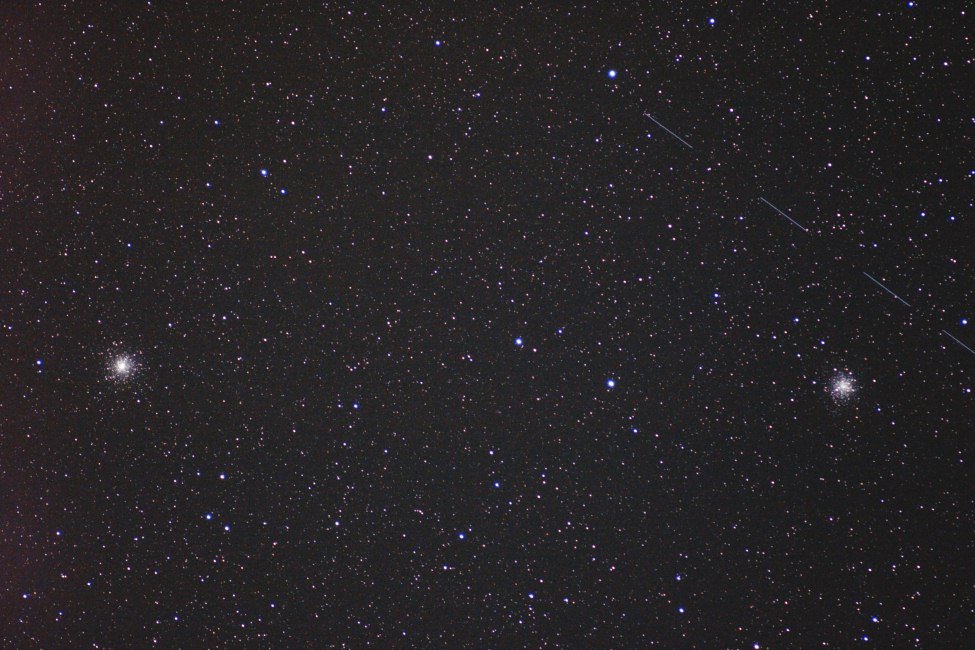 Photographer:
Bob Christmas
Email:
Location of Photo:
Barry's Bay, Ontario, Canada
Date/Time of photo:
May 5, 2011 12:19 -->12:34 AM EDT
Equipment:
Camera: Canon Digital Rebel 300D SLR set at ISO 800 & RAW mode. Lens: Tamron 300mm f/2.8 lens, set at f/3.5 Mount: Super Polaris EQ. Tracked but not guided. Exposures: 6 x 60 seconds each = 6 minutes total. Stacked using Deep Sky Stacker 3.2.1; post-processing (levels and curves) done using The Gimp 2.6.
Description:
These are the globular clusters M10 (left) and M12 (right) in Ophiuchus. NOTE: The trail at upper right, I suspect, is a geosynchronous satellite because the trail is approximately 15 arcminutes long in each of the individual minute-long exposures. Extrapolating to one hour, this would be 900 arcminutes = 15 degrees. Since the Earth rotates 15 degrees every hour, this would mean the satellite is stationary over the same spot on the Earth. North is at upper right, approximately perpendicular to the satellite track.