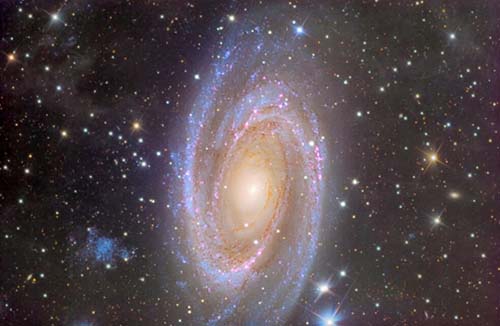 Photographer:
ecoles
Email:
Location of Photo:
Sierra Remote Observatories, Shaver Lake, CA
Date/Time of photo:
03-29-2015
Equipment:
RCOS 16" RC telescope with SBIG STXL 11002 CCD camera
Description:
HaLRGB image of M 81 (Messier 81, NGC 3031 or Bode's Galaxy) with Holmberg IX Dwarf Galaxy and IFN (Integrated Flux Nebulae) Image by Eric Coles and Mel Helm This is a HaLRGB image of M 81 and surrounding galaxies with IFN. M 81 is a classical spiral galaxy and a beautiful target for astrophotographers. M 81 is located in the constellation Ursa Major and is 11.8 million light years from earth. Along with M 81 is Holmberg IX, a blue diffuse galaxy shown in the lower left of the image. If you look closely at the image, you can also see seven other smaller galaxies. The faint clouds in the image are integrated Flux Nebulae, the name given to the collection of dust particles and gases illuminated by the accumulated glow of stars in our own Milky Way. The captured light of the IFN is part reflection off particles and part emission from gases, primarily hydrogen.
Website: