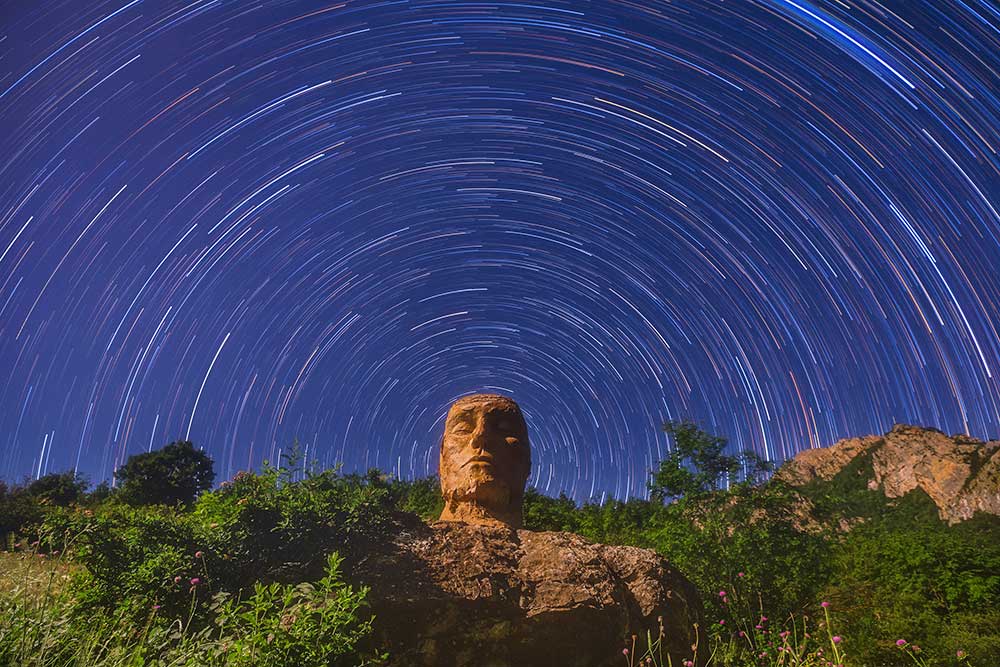 Photographer:
Parisa Bajelan
Location of Photo:
Hyrcanian forests - Semnan - Iran
Date/Time of photo:
01 June 2020 - 01:00 AM
Equipment:
Canon 6D Modified Camera ISO 3200 16-35 @20 mm Canon lens f/5.6 163 * 30.00 secs
Description:
Star trail over the stone head sculpture and mountains in hyrcanian forest in Iran while the Moon is going to sets - It was midnight and the clouds miraculously disappeared. The stars shine in the sky like white, green, yellow and blue diamonds. We paid more attention to their movements and noticed that the stars, like white doves flying in a peaceful order, were orbiting around a point above our heads. Without any tension and conflict and without any collisions and friction. The stars above our heads, like the rotation of day and night and the seasons, were moving in a steady path and made us think deeply. Will there ever be a day when humans, like the stars in the sky, live on this planet in peace with nature and their fellow human beings? The International Day of Peace, sometimes known as World Peace Day observed annually on 21 September. As of 1981, it has been observed every year to create awareness about the importance of world peace. Long live absolute world peace!
Website: