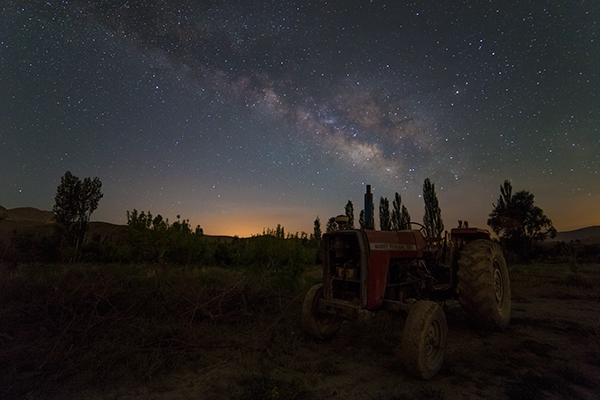 Photographer:
celestialviews2@gmail.com
Location of Photo:
Hunejan, Iran
Date/Time of photo:
6/13/2014
Equipment:
Canon 6D, Samyang 14mm
Description:
Night has just begun. There is no sound other than whispers of the night. I'm sitting in the tent, listening to the moans of a lagged behind flying bird. Out in the bushes there are frogs singing for their mates. Roar of an approaching Tractor breaks the silence. The Tractor belongs to the Hunejan Villagers. They are farmers coming to irrigate their crops in the night and will be guests for stars. I come out of the Tent and begin my journey toward mysterious hut named "Cottage of the Wolves". I find the Tractor beside the dirt road. The Ferguson 285 belongs to 30 years ago, at least. Odor of oil takes my mind away to the Modern Civilization! Meanwhile, pure oxygen with the aroma of Basil, wet soil and tender breeze dives into my lungs. The setting Moon lights up the landscape and Milky way is just coming up. Hunejan farmers are the luckiest. Every night they can count the Stars.
Website: