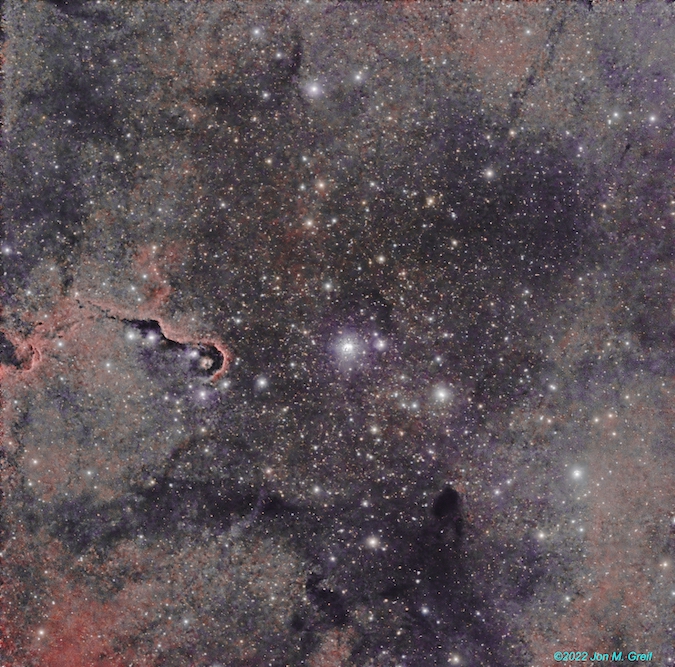 Photographer:
Jon Greif
Location of Photo:
La Jolla, CA, USA
Date/Time of photo:
September 13-14, 2022, between 8:30 pm and 4 am PDT
Equipment:
Takahashi FSQ85 refractor (450 mm focal length) with 1.01x flattener, ZWO ASI533 MC Pro imaging camera, Optolong L-Pro filter, 50 mm ZWO guide scope, ZWO ASI292 guide camera, Rainbow Astro RST-135 mount, ASIAIR Plus controller, Pixinsight 1.8.9 processing software. 7 hours integration time. Bortle 6 sky. Waning gibbous moon.
Description:
Emission nebula IC 1396 mixes glowing cosmic gas and dark dust clouds in the high and far off constellation of Cepheus. Energized by bright central stars, this star forming region sprawls across hundreds of light-years, spanning over three degrees (6 full moon diameters) in the sky while nearly 3,000 light-years from Earth. Among the intriguing dark shapes within IC 1396, the Elephant's Trunk nebula lies along the center left. The colors come from the nebula's atomic oxygen, hydrogen, and sulfur gases, creating blue, green, and red hues.
Website: