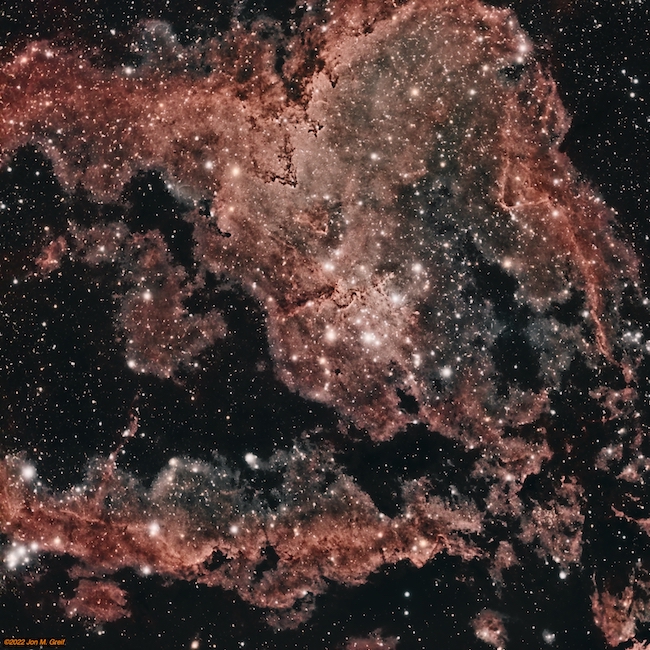 Photographer:
Jon Greif
Location of Photo:
Borrego Springs State Park, CA, USA
Date/Time of photo:
October 24-25, 2022 10 pm - 4 am PDT
Equipment:
Takahashi FSQ85 refractor (450 mm focal length) with 1.01x flattener, ZWO ASI533 MC Pro imaging camera, Optolong L-Pro filter, 30 mm ZWO guide scope, ZWO ASI290 guide camera, Rainbow Astro RST-135 mount, ASIAIR Plus controller, Pixinsight 1.8.9 processing software. 10 hours integration time. Bortle 2 sky. New moon.
Description:
This is the Heart Nebula , catalogued IC 1805, some 7500 light years from Earth and located in the constellation Cassiopeia. It was discovered by William Herschel on 3 November 1787. It is an emission nebula showing glowing ionized hydrogen gas and darker dust lanes. The brightest part of the nebula, in the center of the heart, includes an open cluster of stars, Melotte 15, containing bright stars that are nearly 50 times the mass of the Sun. The shape of the nebula is driven by stellar winds from the hot stars in its core. The nebula spans almost 2 degrees in the sky, covering an area four times that of the diameter of the full moon. The image is the result of more than 10 hours of exposure time over two nights, last week, in Anza Borrego Desert State Park, Southern California.
Website: