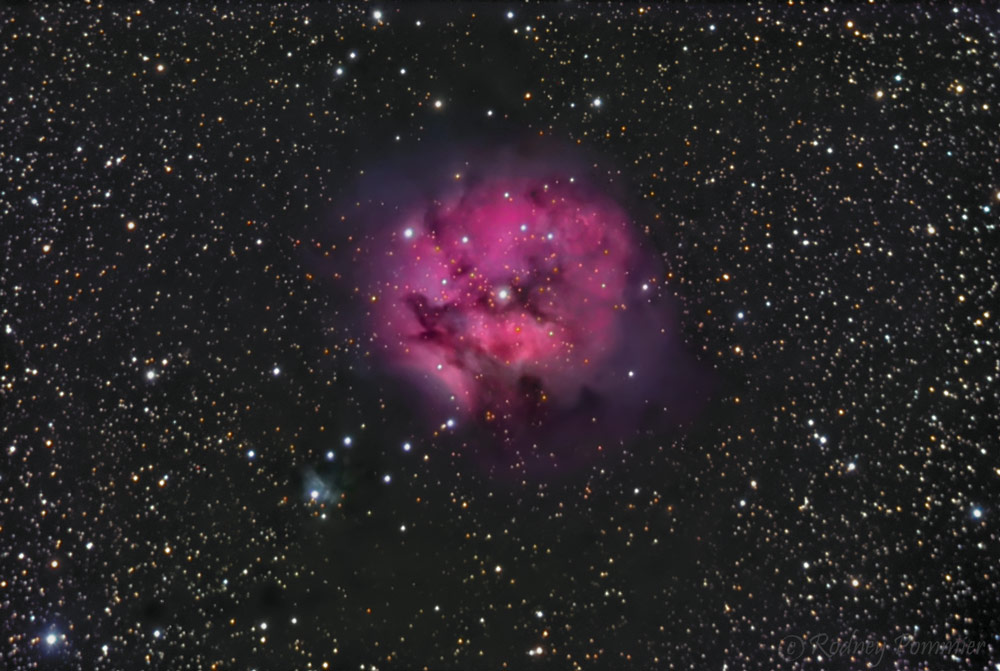 Photographer:
Rod Pommier
Location of Photo:
Pommier Observatory, Portland, OR, USA
Date/Time of photo:
2011-08-23 through 2011-09-01.
Equipment:
Telescope/mount: Celestron Compustar C14 with 0.75x focal reducer (f/8). Camera: SBIG STL 11000M with Baader Planetarium LRGB filters. Exposures: LRGB=390:60:50:50minutes=9hrs:10minutes total exposure.
Description:
IC 5146, The Cocoon Nebula (Sharpless 2-125, Caldwell 19) in Cygnus, is a star-forming nebula that lies about 4000 light-years from Earth. It is similar to the Trifid Nebula. The central star formed about 100,000 years ago. The emission nebula is surrounded by the dark nebula, Barnard 168. To me, this would also qualify to be named the eagle nebula. The dust superimposed in front of the lower left portion of the nebula looks like the head, neck and open beak of a screeching eagle, complete with eyeball in the socket.