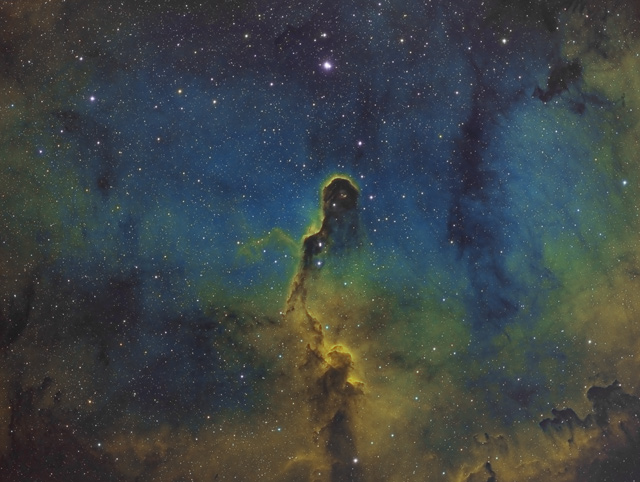 Photographer:
Craig & Tammy Temple
Email:
Location of Photo:
Hendersonville, TN, USA
Date/Time of photo:
July 11, 22, 23, 26 & 27, 2011
Equipment:
Telescope: Stellarvue Raptor SVR105 @ f/7 Accessories: Stellarvue SFF7-21 flattener; Dew control by Dew Buster; Alnitak Flat-Man Mount: Orion Atlas EQ-G controlled by EQMOD performance tuned by Astrotroniks (Ha); Takahashi EM-200 Temma2 (OIII, SII) Camera: QSI583wsg CCD @ -10.0C Guiding: Starlight Xpress Lodestar via PHD Filters: Astrodon 5nm Ha, OIII, SII Exposure: 12 x 20min. (Ha); 18 x 20min. (OIII); 18 x 20min. (SII) Acquisition: ImagesPlus 4.0c Camera Control Processing: Calibration, DDP in Images Plus v4.0; Registration in Registar Post-processing: Adobe Photoshop CS5; Noise Ninja
Description:
The Elephant Trunk Nebula, IC1396A, is a region of concentrated interstellar gas and dust that lies in the ionized gas region of the star cluster IC1396, and is located about 2,400 light-years away in the constellation Cepheus. Other designations for this object are LBN 452 & vdB 142. The image seen here is shown in false-color using a "modified" Hubble palette as outlined by Bob Franke.
Website: