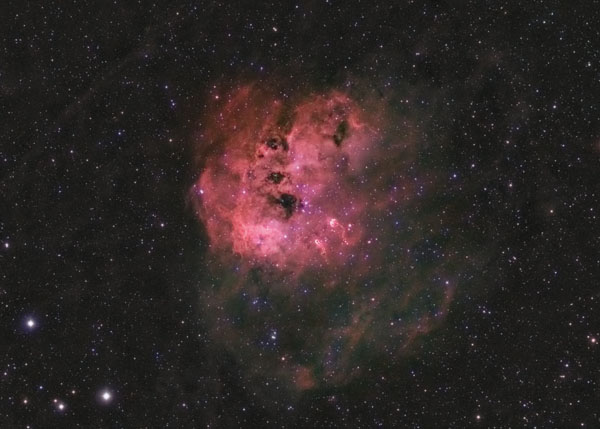 Photographer:
steve coates
Location of Photo:
Ocala, Florida
Date/Time of photo:
Imaged December 4, 6,7 and 18, 2012
Equipment:
Orion 80mm EON (FL 480mm) Orion 50mm guide scope with SSAG QSI 683 ws Losmandy G-11 with Gemini II Astrodon Tru-balance E-Series Generation II LRGB filters Baader 7 nm Ha filter
Description:
IC 410 an emission nebula about 12,000 light-years from Earth in the constellation Auriga. Imaged December 4, 6,7 and 18, 2012 from Ocala, Florida RGB: 1 hour 18 min Red, 1 hour Green and 1 hour Blue (binned 1x1) Ha: 5hour 15 min (binned 1x1) Emission nebulas are areas of star formation. The red glow is from ionized Hydrogen atoms that have become excited from the surrounding "new-born" stars. The dark areas are bands of dense dust.
Website:
http://coatesastrophotography.com/p840667703/h73928f0#h4ea2e0f2