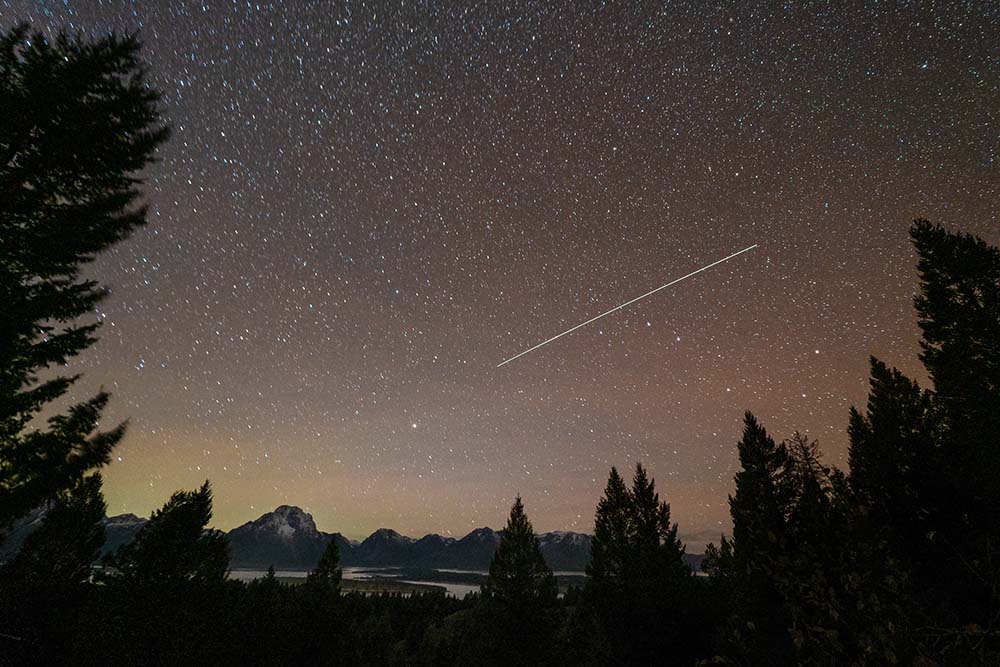 Photographer:
Chiragupreti
Location of Photo:
Signal Mountain, Grand Teton National Park, WY
Date/Time of photo:
10/22/2019, 9:10pm
Equipment:
Sony A7S2. 12 mm at f/4.5. A single exposure of ISO 3200 and shutter speed 70sec. Edited Lightroom CC, Photoshop CC and Starspike Pro.
Description:
During the day I scouted the location atop Signal Mountain, which gave me a clear view of the mountain range with Jackson Lake peeking between the foliage, giving the impression of a river. Mount Moran at an election of 12,605ft dominates this northern section of the Teton Range with it's Skillet Glacier visible in this single exposure at night. I had a visual of the ISS streaking across the sky as it became brighter when it crossed Arcturus (bright star over the mountain range) . Once past it, I opened my shutter for a long exposure to capture the flyby as a single unbroken streak as it grazed past the Big Dipper. Slight green and red airglow can also be seen in the sky and on the horizon along with artificial airglow likely from Idaho Falls that lies west of these mountains.