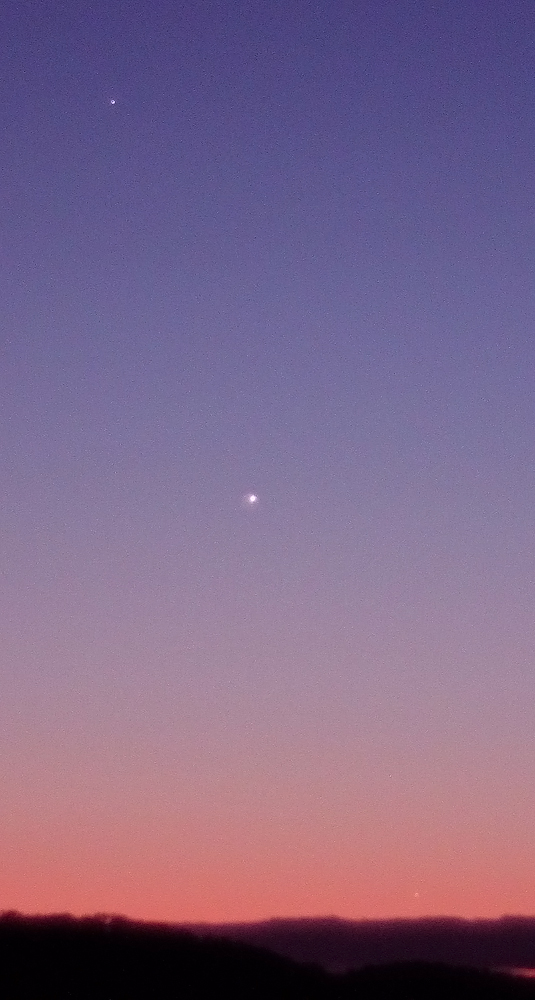 Photographer:
Victor C. Rogus
Email:
Location of Photo:
Jadwin, Missouri
Date/Time of photo:
06/01/2013 21:09:12 local Time
Equipment:
This image was made at 21:09:12 local time on June 1, 2013 in Jadwin, Missouri with a Cannon 60Da camera and a Zeiss manual focus 50mm f 1.4 lens. The ISO used was 2000 and the exposure length was 1/160 sec. at f1.4.
Description:
This evening of June 1, 2013 the Planets Mercury, Venus and Jupiter form a line in the Western sky. Jupiter flirted with clouds on the horizon for a while, but shone long enough for me to make an image or two. Top to bottom...Mercury, Venus, and Jupiter, way low. The Planetary trio is spreading out these days, I understand that the line they created tonight spanned 9 degrees. Still a wonderful sight.