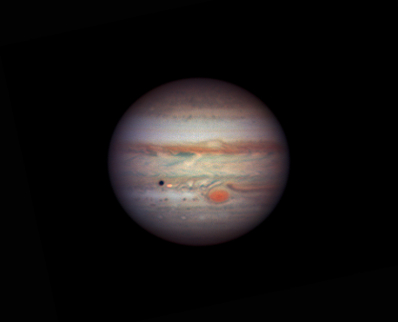 Photographer:
AndromedaM31
Location of Photo:
Chicago, Illinois
Date/Time of photo:
September 30, 2022; 11:24 p.m., C.S.T.
Equipment:
Meade 10" LX200 Schmidt-Cassegrain Telescope
Description:
During the week surrounding Jupiter's opposition, local sky conditions were persistently cloudy, and during brief periods of clear skies, atmospheric turbulence made imaging nearly impossible. But weather conditions finally cooperated the night of September 30, 2022, and I obtained a couple decent images. Equipment: Meade 10" LX 200 Schmidt-Cassegrain telescope, Imaging Source DMK au 618 camera, and Astronomik IR, G, B filters.
Website: