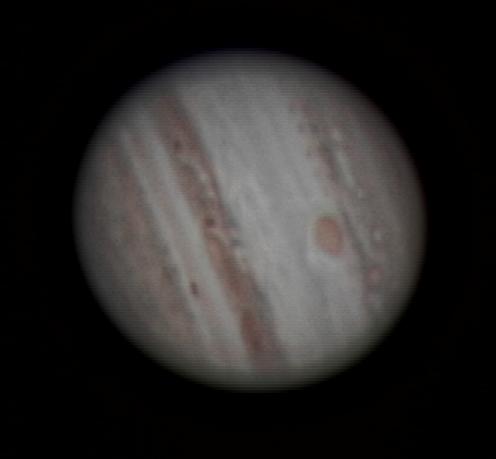 Photographer:
Paul Gandy
Location of Photo:
Boca Raton, FL, backyard
Date/Time of photo:
10/10/10, midnightish
Equipment:
1998 Celestron C8,altazimuth; Sony Hanycam DV camcorder, Registax 5, blowdryer for humidity control
Description:
Shows the state of the astro community. I read "Nights, Camera, Action" on Friday S&T online, dug out my old Handycam on Saturday (and C8), downloaded Registax5 on Sunday, videoed and processed Sunday night, had a software glitch, got personal advice from Cor at Registax within 2 hours!, downloaded virtualdub, read blogs and e-manual for both, produced image Monday morning. My first attempt at digital imaging, not the greatest I've seen of Jupiter, but it speaks volumes about the helpful enthusiasm of the astro community. I was standing on the shoulders of giants.