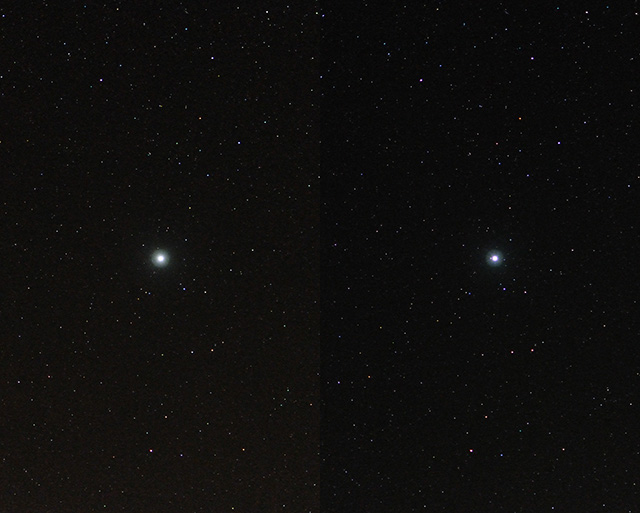 Photographer:
Mike Learmonth
Email:
Location of Photo:
Lambton County, Ontario, Canada
Date/Time of photo:
Sept. 6 & 11, 2010
Equipment:
Nikon D300 DSLR with 35 mm f1.8 Nikkor lens, mounted on a trpiod with no tracking, 4 second exposure @ f1.8 and ISO 3200. The two images aligned and stereo pair created using Stereo Photo Maker version 4.30 freeware.
Description:
This stereo pair utilizes the Earth's movement over just slightly more than 5 days to create the stereo base for the two photographs of just under 13 million kilometers. When viewed as a stereo image, it is apparent that Jupiter is close, Uranus (slightly above, to the right of Jupiter and about 2500 times dimmer) is further away and the stars in the background are at infinity. The images are made for cross-eyed viewing (left eye looking at right image, right eye looking at left image). The standard for stereo images for parallel viewing is a spacing of 2.5 inches (based on the average interpupillary distance) so this image should be printed 4 inches high by 5 inches wide. Cross-eyed viewing is more forgiving.