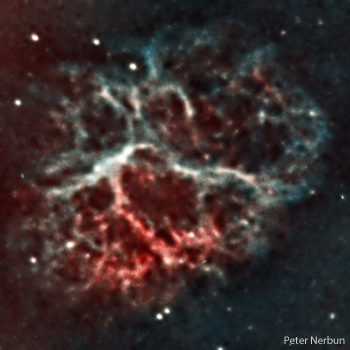 Photographer:
Peter Nerbun
Location of Photo:
Perry Hall, Maryland USA
Date/Time of photo:
Jan 25 2016 at 06:32 UT
Equipment:
C11 SCT, On Axis Guider (ONAG), ATIK 460EX main imaging camera, Lodestar X2 guide camera, Losmandy G11 mount, Astrodon 3nm H-a and O-III narrowband filters, F/6.3 Reducer, Orion Nautilus motorized filter wheel
Description:
This image shows Messier 1, also known as the Crab Nebula; I captured the data for my image with a C11 F/6.3 SCT on Jan 25 2016 at 1:32AM EST; the total integration time for this image was 85 minutes including five 15 minute captures and one 10 minute capture. Even though the Moon was nearly Full (98% illuminated) I was able to capture this image because my narrowband filters have a bandwidth of only 3nm (30 Angstroms); also the Moon was 54 degrees of angular width away from my target; that distance was sufficient to enable my main imaging camera and guide camera to function adequately notwithstanding the lunar light pollution. Seeing was above average when I captured this image on the morning of Jan 25 after an historic snow storm that ended one day earlier.
Website: