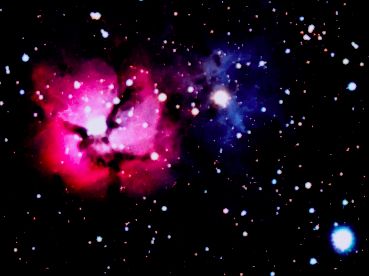 Photographer:
jgreif
Location of Photo:
Sliding Springs Observatory, NSW, Australia, remotely via itelescope.net from La Jolla, CA, USA.
Date/Time of photo:
June 13, 2016, at 2 AM local time.
Equipment:
Takahashi 90 mm wide field telescope and color imager.
Description:
The Trifid Nebula (catalogued as Messier 20), is approximately 5000 light years from earth, in the constellation Sagittarius. The object is an unusual combination of an open cluster of stars; an emission nebula (the red portion), a reflection nebula (the blue portion) and a dark nebula (the apparent 'gaps' within the emission nebula that cause the trifurcated appearance). It was photographed remotely from La Jolla CA with a 90 mm Takahashi Refractor and wide field color camera at Sliding Springs Observatory NSW Australia, using itelescope.net.