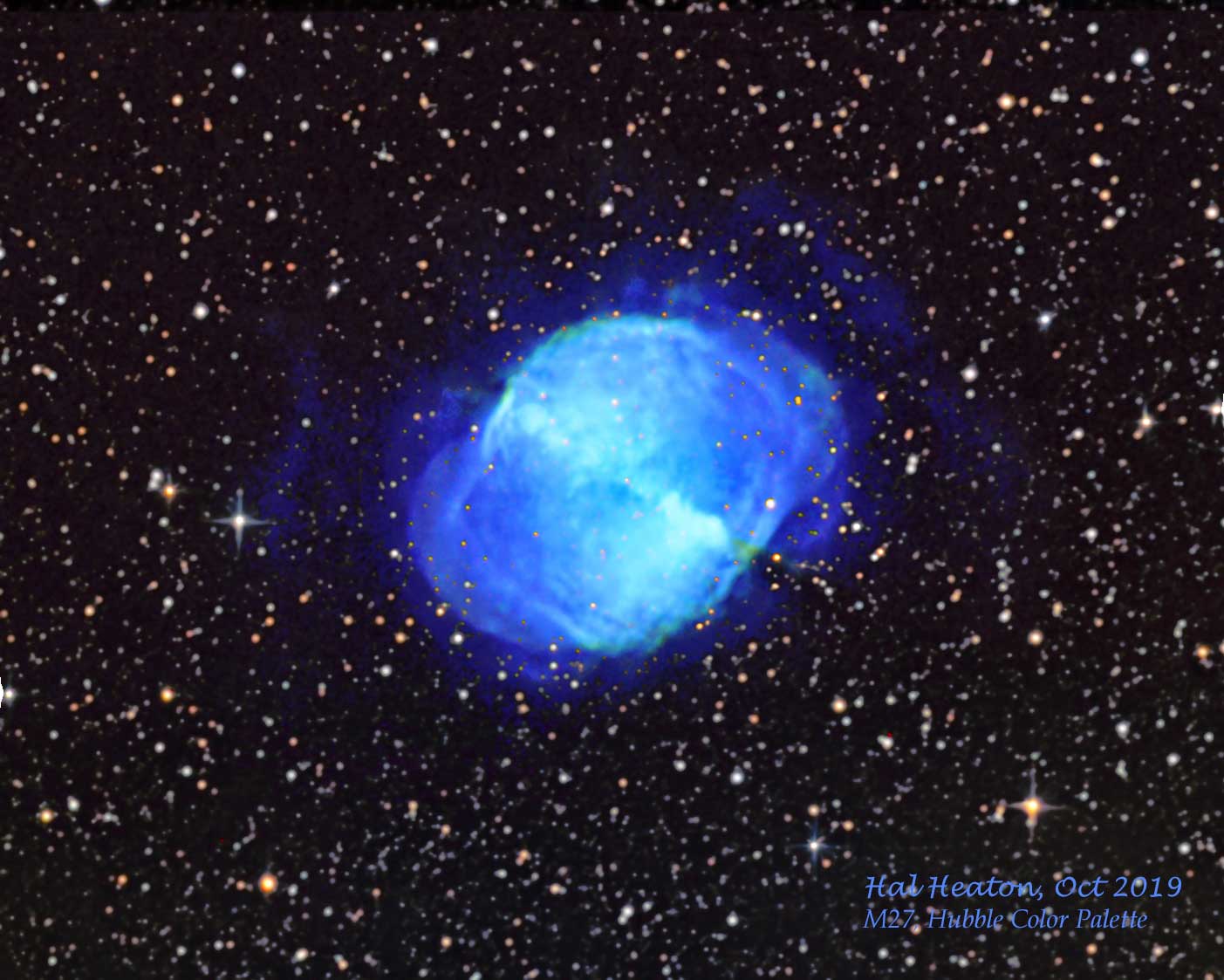 Photographer:
Hal Heaton
Email:
Location of Photo:
Burke-Gaffney Observatory, St. Mary's University, Halifax, Nova Scotia
Date/Time of photo:
HA, OIII (Jun-Aug 2017), SII (Aug-Sep 2019)
Equipment:
Telescope: Planewave Model CDK24, 0.61-m aperture (f/6.5). Cameras (binned 2x2): H-alpha and OIII data, Apogee Aspen CG16M CCD (2048 x 2048 binned pixels); SII data, SBIG STXL-11002 CCD (2004 x 1336 binned pixels). The binned pixels, which were 18 microns square, subtended 0.94 x 0.94 arcsec on the sky. Filters: Astrodon Gen II (H-alpha, OIII, RGB for star colors); Baader (SII).
Description:
This cropped narrowband image of M27, prepared using the Hubble Color Palette, spans an angular field of 21.9 x 17.5 arcmins, corresponding to 7.8 x 6.2 lys at the assumed distance of 1227 lys (GAIA, DR2). North is down and east is to the right. Data were dark-frame, bias and flat-field calibrated at the observatory, and subsequently processed by myself using CCDStack and Photoshop software. A broadband RGB image was used to correct the narrowband star colors, and multiscale high-pass filtering, star-shaping, and noise reduction were applied subsequently to produce the final image.