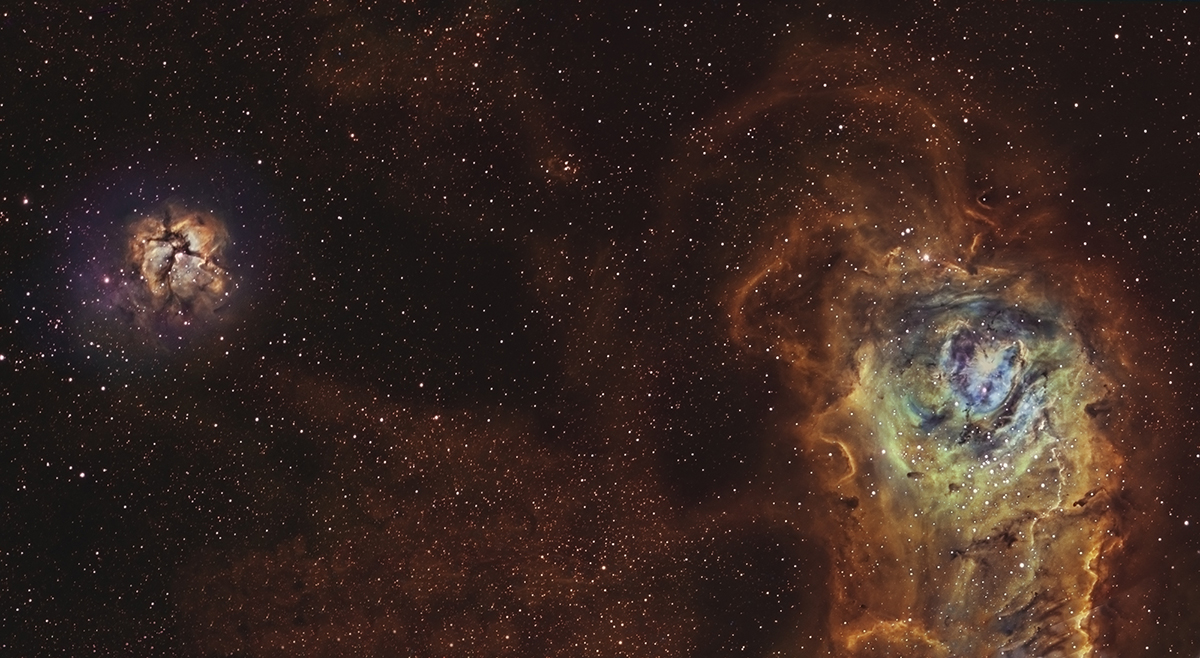 Photographer:
Philip Baker
Email:
Location of Photo:
Fredericksburg Texas
Date/Time of photo:
July 8th thru 13th 2013
Equipment:
Image was taken by Philip Baker over the week of July 8th through 13th from west of Fredericksburg, Texas. Object: 2 frame mosaic of Trifid and Lagoon Nebulas Camera: Starlite Xpress SXVR-H35 chip size: 10,838,016 x 9uM square pixels in a 36.3 x 24.2mm array. Filters: Baader 7nm H alpha, 8nm S2, 8.5nm 03 Exposure data: H Alpha 10 X 20 min ea frame S-2 6X20 min ea frame 0-3 6X20 min ea frame Scope and Mount: Takahashi TOA-130N @ f7.7 + field flattener, NJP mount Guiding via: Takahashi FS-78 with Starlite Xpress Superstar autoguider Camera and autoguider control via Maxim DL Image processing: Maxim DL and Photoshop CS-6
Description:
Two frame mosaic of the region in Sagittarius that includes the Lagoon and Trifid Nebulas. Th eimage was shot through narrow band (H alpha, S2 and 03) filters and is colorized using the Hubble Palette. The image was acquired over 5 nights in July 2013 from west of Fredericksburg, Tx.
Website:
http://www.philastrophotos.com/Nebulas/Combined-Mosaic-2B.jpg