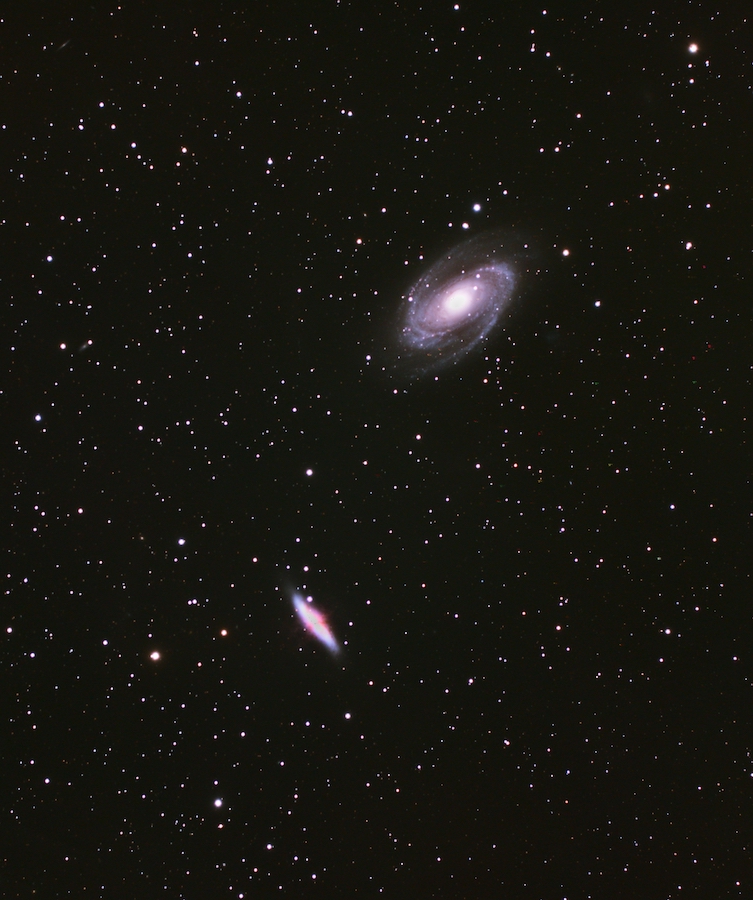 Photographer:
Jon Greif
Location of Photo:
Anza Borrego State Park, Borrego Springs, CA USA
Date/Time of photo:
February 25-26, 2022, between 9 pm and midnight
Equipment:
Takahashi FSQ-85ED with 0.85 Reducer, ZWO ASI533MC Pro imaging camera, Optolong L-Pro filter, ZWO 30 mm guide scope, ZWO ASI292MM mini guide camera, Rainbow Astro RST-135 mount, Ekos capture software on a Raspberry Pi 4B and Pixinsight 1.8.8 processing software on a Macbook Pro
Description:
These are the twin interacting galaxies, M81 (top) and M82 (below), photographed at Anza Borrego State Park last weekend on two beautifully clear nights -- 5 hours of exposure time. Messier 81 (also known as Bode's Galaxy) is a grand design spiral galaxy about 12 million light-years away, with a diameter of 90,000 light years, in the constellation Ursa Major. M81 has an active galactic nucleus which harbors a supermassive black hole. M82 (also known as the Cigar Galaxy), seen edge-on from Earth, is a starburst galaxy. The starburst activity, which causes the red emission at its center, is thought to have been triggered by interaction with neighboring galaxy M81. M81 and M82 were discovered by Johann Elert Bode in December 1774, and 5 years later catalogued by Charles Messier.
Website: