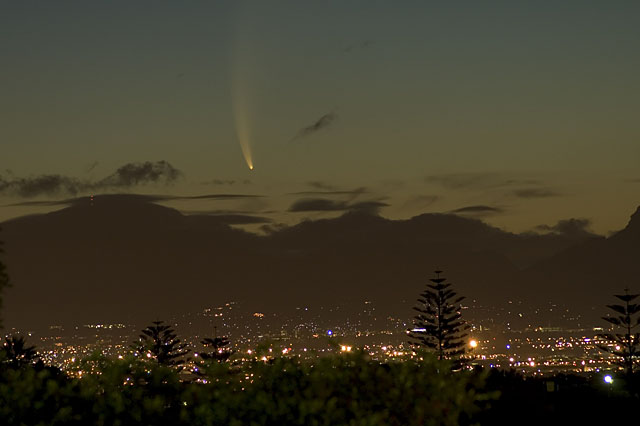 Photographer:
Revere Thomson
Email:
Location of Photo:
Cape Town, South Africa
Date/Time of photo:
17 Jan 2007 at 21:05
Equipment:
Camera; Nikon D70 Lens: Nikkor 70 to 300mm zoom, set at 145mm. On tripod in the street Exposure: 4sec at F5, ISO 200
Description:
The photo, taken on 17 Jan 2007 at 21:05, shows comet McNaught setting over the suburbs of Cape town, South Africa. The lights to the left of the comet are those of the TV mast on Constantia mountain. Table Mountain is on the right of the picture. When I first saw the comet at about 8:20 pm (the sun had set about 20min earlier) I thought it was the contrail of an aircraft, as it was so bright and white! The intensity gradually faded as it got closer to the horizon, presumably due to atmospheric extinction associated with inevitable pollution over the city. The photo opportunities however improved as the city lights and comet came closer to each other. To me the comet appeared brighter than any other I have seen, including Halley's etc. (I'm 56yrs old). A number of people in my street joined me with binoculars - all were very excited, and the kids were asking dads all sorts of astronomical questions - nice to see that the comet was providing a good educational opportunity.