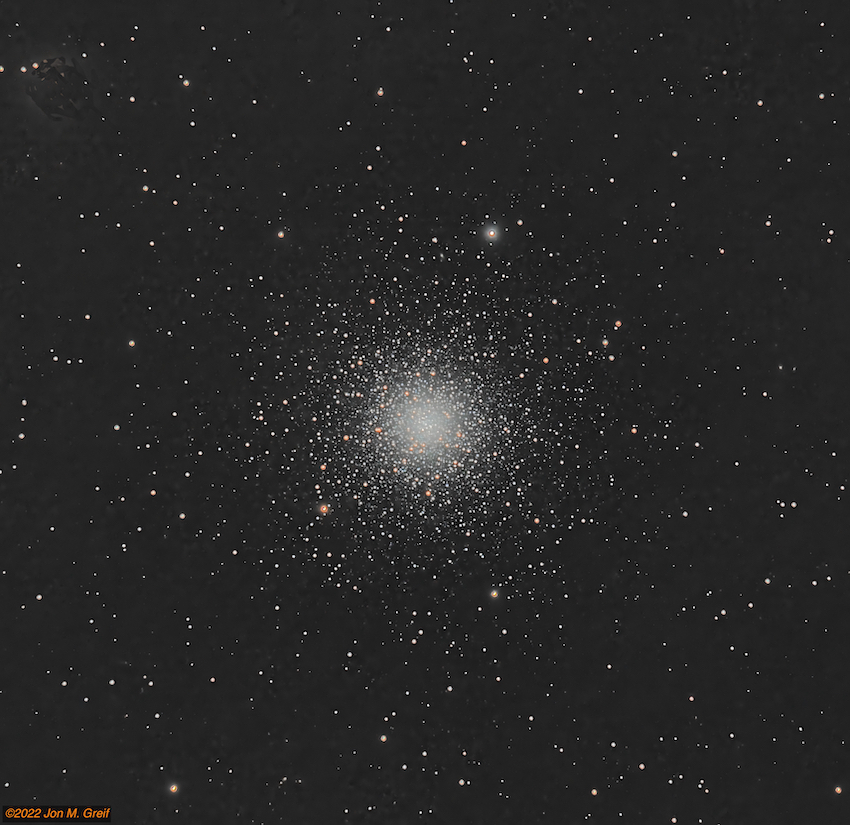 Photographer:
Jon Greif
Location of Photo:
La Jolla, CA, USA
Date/Time of photo:
June 19, 2022, between 10 pm and midnight
Equipment:
Takahashi FSQ-85ED with 1.01 Flattener, ZWO ASI533MC Pro imaging camera, Optolong L-Pro filter, ZWO 30 mm guide scope, ZWO ASI290MM mini guide camera, Rainbow Astro RST-135 mount, ZWO ASIAIR Plus controller and capture software, and Pixinsight 1.8.9 processing software on a Macbook Pro.
Description:
Messier 3 (M3) is a globular cluster of stars in the northern constellation of Canes Venatici. It was discovered on May 3, 1764, and was the first Messier object to be discovered by Charles Messier himself. It has become one of the best-studied globular clusters. Many amateur astronomers consider it one of the finest northern globular clusters, following only the Hercules Cluster, M13. M3 is one of the largest and brightest globular star clusters, and is made up of around 500,000 stars. It is estimated to be 11.4 billion years old, and is centered at 32,600 light-years away from Earth. We had an unusually clear night last night, and this image of M3 was captured from our deck with just 2 hours of exposure time with our 85 mm Takahashi refractor.
Website: