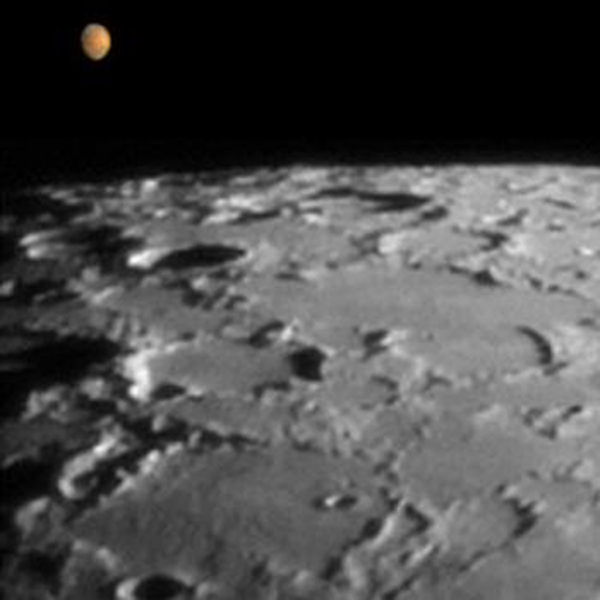 Photographer:
macscreen30@yahoo.com
Email:
Location of Photo:
Perry Hall, Maryland USA
Date/Time of photo:
July 5 2014 at 10:00 PM EDT
Equipment:
C11 SCT, Canon 550D DSLR
Description:
This image shows Mars and the Moon in conjunction on July 5 2014 at the same image scale but with a proximity simulated to be closer than from my observing site in Maryland. This enables one to see both the Moon and Mars magnified sufficiently to see the terminator on Mars and features like Bond Crater on the Moon while maintaining the actual relative size between the two bodies. The separation distance shown between the Moon and Mars corresponds to the angular distance as seen in Caracas, Venezuala at 11:59 PM rather than at their actual separation distance in Maryland of 18.8 arc minutes at my imaging time of 10:00 PM EDT. I captured this image with a C11 SCT and a Canon 550D DSLR camera using an image recording program that directed the camera to image at 10x zoom magnification. Since the Moon's edge and Mars didn't fit in the DSLR sensor's field of view at this image scale I imaged the Moon's edge and Mars separately. Note the Mars terminator on the left side of Mars.
Website: