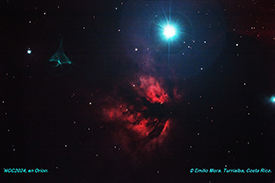 Photographer:
emora02
Location of Photo:
Santa Cruz de Turrialba. Costa Rica.
Date/Time of photo:
29 agosto 2016.
Equipment:
8x5 minutos, calibradas con tomas dark y offset (bias), formato RAW, ISO 3200. Canon T3 modificada+Celestron 8" EDGE HD. Montura Orion Atlas EQG, autoguiada con Orion 50mm Guide Scope+Orion SSAG. Preprocesada con DSS 3.3.2 y procesada con PSCS6 y PixInsight LE.
Description:
NGC2024 es parte del Complejo Molecular de Orión. Fue descubierta por W. Herschel en 1786. Magnitud visual +10,7. Tamaño angular 35x30 arco minutos. Distancia aprox. 1.500 años-luz. Diámetro aprox. 7,1 años-luz. La estrella más brillante, arriba-derecha de la Flama, es Alnitak (ζ Orionis). A la derecha se observa parte de la Nebulosa de Reflexión NGC2023.