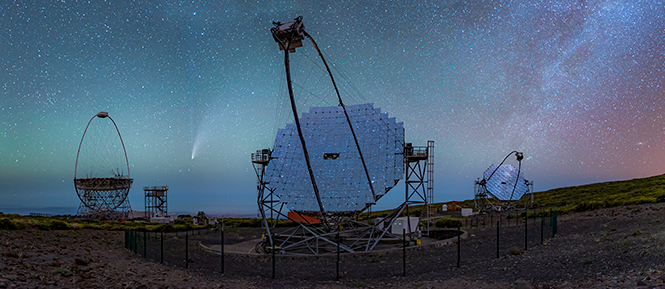 Photographer:
Antonio Gonzalez
Location of Photo:
28.761102, -17.890460 / Villa de Garafía Municipality, La Palma Island (Canary Island - Spain), at 2.197 m. above sea level
Date/Time of photo:
23.JUL.20 / 00:22 h.
Equipment:
It is a composition of 8 pictures / Sony Alpha7S mii/ ISO 5.000 / 25 seg each one. / Lens: Sigma 20 mm / f1.4
Description:
Front of the great Cherenkov Telescopes. The MAGIC II near and the MAGIC I in the right. On our left LST1 telescope. In the middle the famous comet C/2020 F3 Neowise. And in the right border the Andromeda Galaxy. In the mirrors we can see the reflexion of the stars and of the Milky Way. These telescopes are in the Roques de Los Muchachos Observatory, in the La Palma Island, Canary Islands - Spain. Many thanks to the Cabildo Insular de La Palma and the Instituto de Astrofísica de Canarias. Very important for their collaboration to take this picture.
Website: