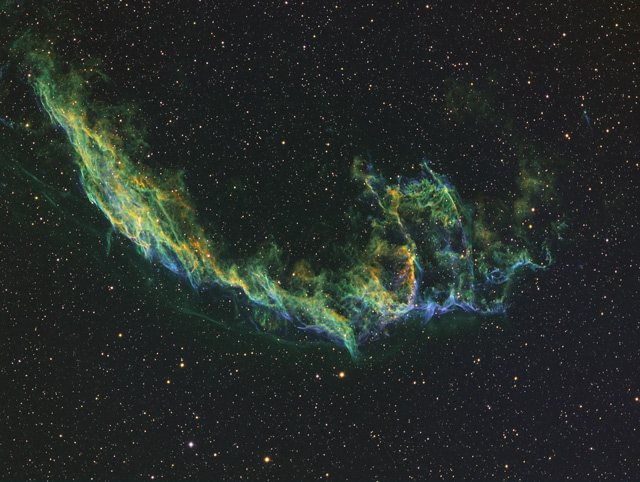 Photographer:
Craig & Tammy Temple
Email:
Location of Photo:
Hendersonville, TN, USA
Date/Time of photo:
June 30, July 2 & 9, 2011
Equipment:
Telescope: Stellarvue Raptor SVR105 @ f/7 Accessories: Stellarvue SFF7-21 flattener; Dew control by Dew Buster Mount: Orion Atlas EQ-G controlled by EQMOD performance tuned by Astrotroniks Camera: QSI583wsg CCD @ -10.0C Guiding: Starlight Xpress Lodestar via PHD Filters: Astrodon 5nm Ha, OIII, SII Exposure: 12 x 20min. OIII & SII, 11 x 20min. Ha Acquisition: ImagesPlus 4.0c Camera Control Processing: Calibration, DDP in Images Plus v4.0; Registration in Registar Post-processing: Adobe Photoshop CS5; Hubble palette R=SII, G=Ha, B=OIII Date(s): June 30, 2011, July 2, 2011 & July 9, 2011 SQM reading (begin - end): N1:19.21-19.20; N2:19.00-clouds; N3:18.84-19.14 Temperature (begin - end): N1:76.8ºF-68.5ºF; N2:78.8ºF-73.8Fº; N3:78.3ºF-71.6Fº
Description:
This image of NGC 6992 - The Eastern Veil is our first image that we've processed using the HST palette. We used the standard mapping of SII = red, H-alpha = green, & OIII = blue. We just tried to have fun with it and adjusted the colors to what looked "pretty" to our eyes.
Website: