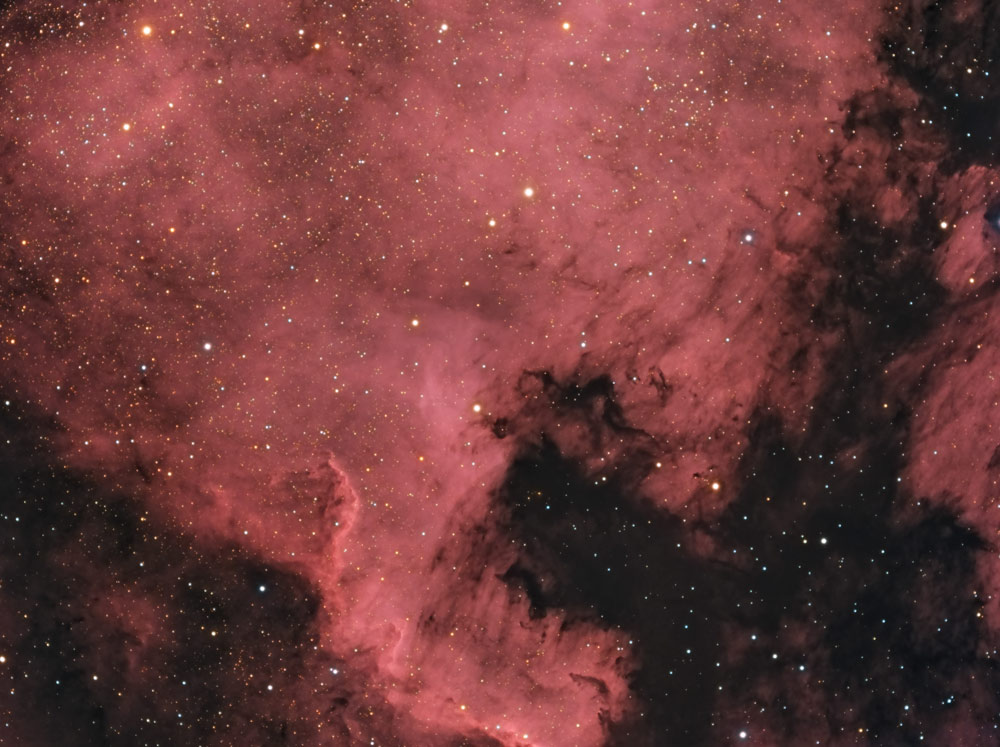 Photographer:
Miroslav Horvat
Email:
Location of Photo:
Ivinj, Croatia
Date/Time of photo:
08/03/2019, 08/04/2019
Equipment:
Optics: Skywatcher ED80, 0.85 FF/FR Camera: ASI1600mm pro @ -20°C and QHY8C @ -25°C Mount: SW EQ6 Pro Guiding: finderguider with QHY5L-IIc Exposure: Baader Ha 83x180 sec, Gain 200, Offset 50, Dark, Flat, Flat dark with ASI1600mm pro RGB : 6x900 sec with QHY8c Total integration time 5.7 hrs Software: Sequence Generator Pro, PHD2, PixInsight, PS CC 2017
Description:
The North America Nebula (NGC 7000 or Caldwell 20) is an emission nebula in the constellation Cygnus, close to Deneb. The North America Nebula is large, covering an area of more than four times the size of the full moon; but its surface brightness is low, so normally it cannot be seen with the unaided eye. The North America Nebula and the nearby Pelican Nebula (IC 5070) are parts of the same interstellar cloud of ionized hydrogen. Between the Earth and the nebula complex lies a band of interstellar dust that absorbs the light of stars and nebulae behind it, and thereby determines the shape as we see it.
Website: