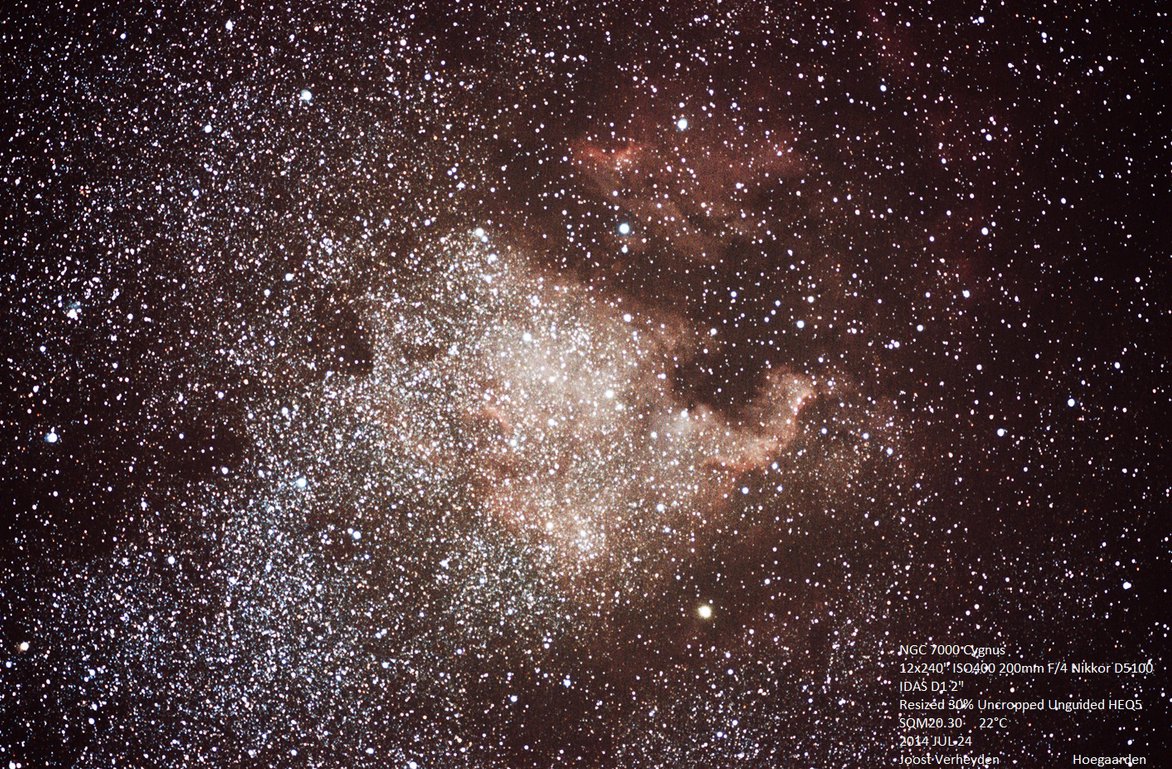 Photographer:
joost.verheyden@gmail.com
Email:
Location of Photo:
Hoegaarden, Belgium
Date/Time of photo:
July 24
Equipment:
DSLR Nikon D5100 Old Vintage '70-ies 200mm F/4 Nikkor IDAS LPS D1 HEQ5
Description:
A very pleasant night with high temperatures 22 °C which is good for me but bad for noise. So I decided to image on ISO400. The North-Americanebula and the Pelican Nebula fit nicely into the frame of the old vintage 70-ties 200mm F/4 Nikkor. Because it is fairly scharp at the edges I did not stop it down any further. The IDAS D1 light pollution filter was screwed on top of the lesn with a reduction ring 55mm to 50mm. This resulted in a little bit of vignetting. I left the old HEQ5 unguided do it's work, and actually should have done a better job either by guiding either by polar aignment. I lost several frames for which the shcarpness was not ok. Bassically I'm pleased with the result as the H-Alfa comes out pretty well for an unmodified sensor (Nikon D5100). It also demonstrates that results do not need an SQM 21+sky. This was a foggy summer night in Hoegaarden with SQM 20,30 at zenit.
Website: