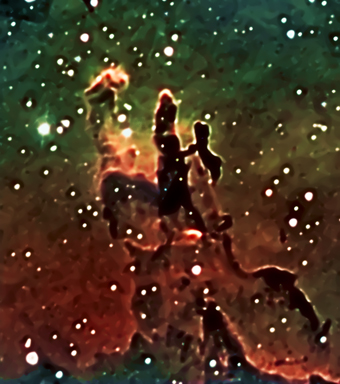 Photographer:
Peter Nerbun
Email:
Location of Photo:
Perry Hall, Maryland USA
Date/Time of photo:
August 2017
Equipment:
C11 SCT, On-Axis Guider (ONAG), ATIK 460EX main imaging camera, Lodestar X2 guide camera, Losmandy G11 mount, ZWO EFW Mini Electronic Five-Position Filter Wheel, 3nm Ha, O-III and Luminance filters, IDAS LPS-P2-48 light pollution filter, HSM Stepper Motor for Starlight Feather Touch fine Micro-Focuser, Digital Boss II Focuser Control System, F/6.3 Reducer, , Spike-a Flat Field panel
Description:
This is my image of the Pillars of Creation inside the Eagle Nebula (M16). The pillars are giant columns of gas and dust in which new stars are being born, the largest of the pillars measures 4 light years (24 trillion miles) tall; they are located 7,000 light years from Earth. If you look at the top of the leftmost pillar in the image please note how bright it is; that's because stars were being born there 7,000 years ago due to gas being compressed into protostars under extremely high temperatures and pressures. Stars were also being born inside the column of gas but the intense ultraviolet radiation from new hot blue stars generates stellar winds (powerful streams of charged particles) that sandblast away the dust and evaporate the gas at the top of the pillar so the light from newly born stars appears brighter at the top. I captured this image with a C-11 SCT and processed 220 minutes of 3nm bandwidth Hydrogen-alpha data, 170 minutes of 3nm bandwidth Oxygen-III data and 136 minutes of luminance data.
Website: