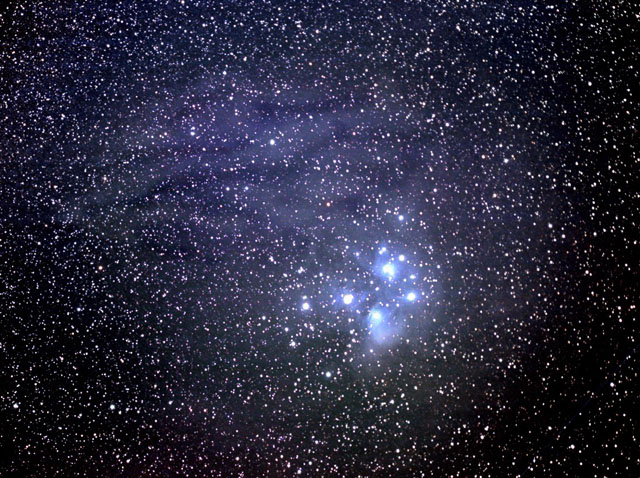 Photographer:
paolo
Email:
Location of Photo:
Cimini astronomical Observatory - Italy
Date/Time of photo:
Febbruary 2007
Equipment:
AF-S Nikkor 200mm f/2.0 G ED-UF VR on Marcon RC 500/8 SBIG STL 6303E Binning 1x1+ Astrodon filters B for L 75 min; R 9 min; G 9 min; B 9 min. Total 1h 40m of exposures.
Description:
Here my last shot just to prove my ultimate instrument (a perfect Nikon 200/2 14 elements 3 ED and 1 super ED). I tested also a new method in assembling the image (B;R;G;B) using 2 times the channel Blue: 1 for L and 1 for B.This for the reason the nebulosities are reflection in blue spectrum.The field of view are wide as about 6 degree! Pleiades & IC 353/1995 Overshadowed by the Pleiades, which are immediately to the SW of this extremeley faint patch of reflection nebulosity, IC353/1995 are rarely photographed, let alone in color. Measuring 180' X 30', this gossamer web of nebulosity is a real challenge. It is not clear if this nebula is associated with M-45, but I think yes.
Website: