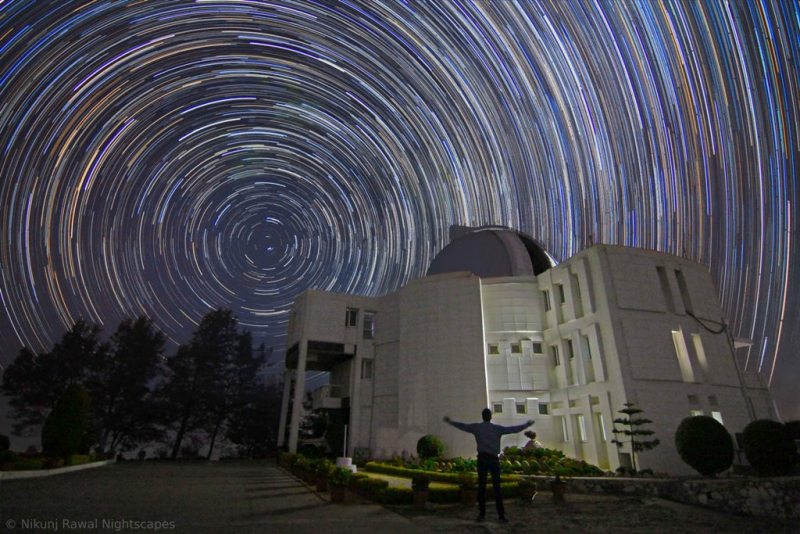 Photographer:
Nikunj Rawal
Location of Photo:
Mount Abu, India
Date/Time of photo:
1st June 2017 at 01:30 am
Equipment:
Canon 1100D Camera with Tokina 11 mm lens on a fixed tripod
Description:
Rotation of Earth on its axis at a fixed celestial point, i.e. Pole Star at north direction causing this circumpolar startrails of stars moving across the nightsky. Foreground is at 5,400 feet high altitude MountAbu peak of Aravali Mountain 1.2 Visible-Infrared Astronomical Observatory. Visiting 1.2 meter 'Visible-Infrared Astronomical Observatory', Dept of Space, Physical Research Laboratory at 5,400 feet height at Mount Abu over Aravali Mountain Range, Rajasthan, India is worth inspiring, exciting & memorable for a lifetime. Milkyway was rising after midnight and in a horizontal position at 22 degree latitude. Full night stay, Inversion Atmospheric Layer, Understanding functioning of IR Telescope, Observations of SuperNovas, Spectroscopic analysis, Dark Starrynight, Awesome milkyway, Delicious food and wonderful people there are unforgettable experience.
Website: