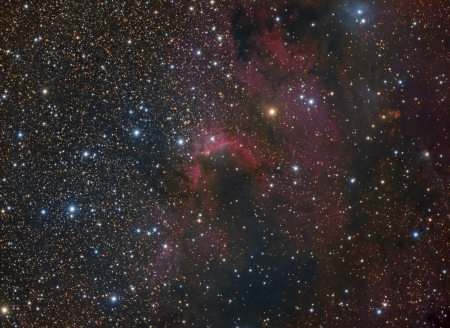 Photographer:
Craig & Tammy Temple
Location of Photo:
Portland, TN, USA
Date/Time of photo:
November 18, 19, & 20, 2014
Equipment:
Telescope: Stellarvue Raptor SVR105 @ f/7 Accessories: Stellarvue SFF7-21 flattener; Dew control by Dew Buster; Alnitak Flat-Man Mount: Takahashi EM-200 Temma2 Camera: QSI683wsg-8 CCD @ -25.0C Guiding: Starlight Xpress Lodestar via PHD Filters: Astrodon Tru-Balance E-Series Gen2 LRGB filters Exposure: 12 x 20min. binned 1x1 Luminance; 6 x 10min. binned 2x2 in R and G; 9 x 10min. binned 2x2 in B Acquisition: ImagesPlus 5.0 Camera Control Processing: PixInsight v1.8 Ripley
Description:
Sharpless 155 or Caldwell 9, also known as the Cave Nebula, is found within a larger nebula complex in the constellation Cepheus about 2,400 light years away. Although dim and very diffuse, this nebula has an apparent magnitude of 7.7, visually. The Cave Nebula contains emission, reflection, and dark nebulosity making it an interesting target for astrophotography. It gets its name from the dark lane on the eastern side very near the bright curvature of emissin nebulosity, giving it the appearance of a deep cave when viewing through a telescope.
Website: