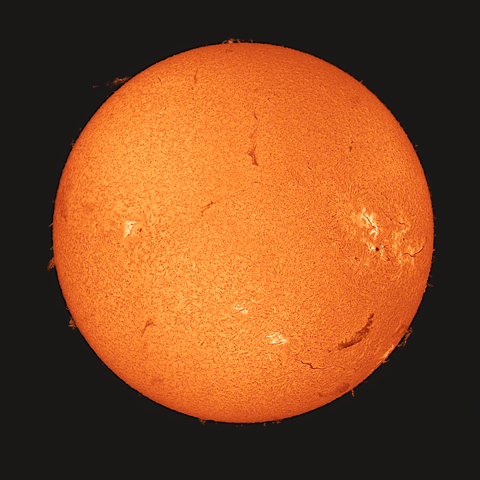 Photographer:
Craig & Tammy Temple
Location of Photo:
Hendersonville, TN, USA
Date/Time of photo:
January 6, 2012, 10:16 - 10:21am CST
Equipment:
Telescope: Lunt Solar Systems LS60THa/B1200CPT Accessories: LS50FHa Double-stack etalon Mount: Takahashi EM-200 Temma2 Camera: Imaging Source DMK31 Exposure: 11.10ms (each) Gain: 505 - 534 Length: 1:00 @ 30fps (each) Acquisition: Fire Capture Processing: Registax 6 Post-processing: Adobe Photoshop CS5 Capture time: January 6, 2012, 10:16 - 10:21am Capture conditions: ~55°F; transparency: Transparent 5/5; seeing: Good 4/5
Description:
This 4-panel solar mosaic shows the activity that was taking place on January 6, 2012. As the image shows, there were many prominences, several filaments, and many sunspots or active regions. Sunspot 1391 is visible in the active region to the left of center, while the active region to the right of center shows sunspots 1389 (left) & 1388 (right). Just above center, but below the filament, is a small sunspot, 1393, and diagonally up to the right of 1393 is sunspot 1392. The sun's everchanging features makes it a joy to image over and over again.
Website: