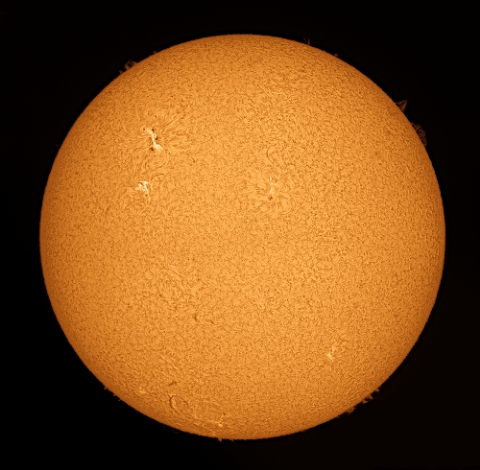 Photographer:
Craig & Tammy Temple
Email:
Location of Photo:
Hendersonville, TN, USA
Date/Time of photo:
March 6, 2012 at 10:09am CST
Equipment:
Telescope: Lunt Solar Systems LS60THa/B1200CPT Accessories: LS50FHa Double-stack etalon Mount: Takahashi EM-200 Temma2 Camera: Imaging Source DMK31 Exposure: 20.20ms (each) Gain: 529 (each) Length: 1:00 @ 30fps (each) Acquisition: Fire Capture Processing: Registax 6 Post-processing: Adobe Photoshop CS5; ImagesPlus 4.5 Capture time: March 6, 2012, 10:09am - 10:13am CST Capture conditions: ~60°F; transparency: Above avg 4/5; seeing: Above avg 4/5
Description:
On March 6, 2012 we captured this 4-panel mosaic of our daytime star. This image shows the massive sunspot 1429 to the upper left, with sunspot 1430 just below, and sunspot 1428 over to the right. At the very bottom of this shot is a neat, horseshoe-shaped filament and along the solar limb are many great prominences. Several plages are visible in this image as well.
Website: