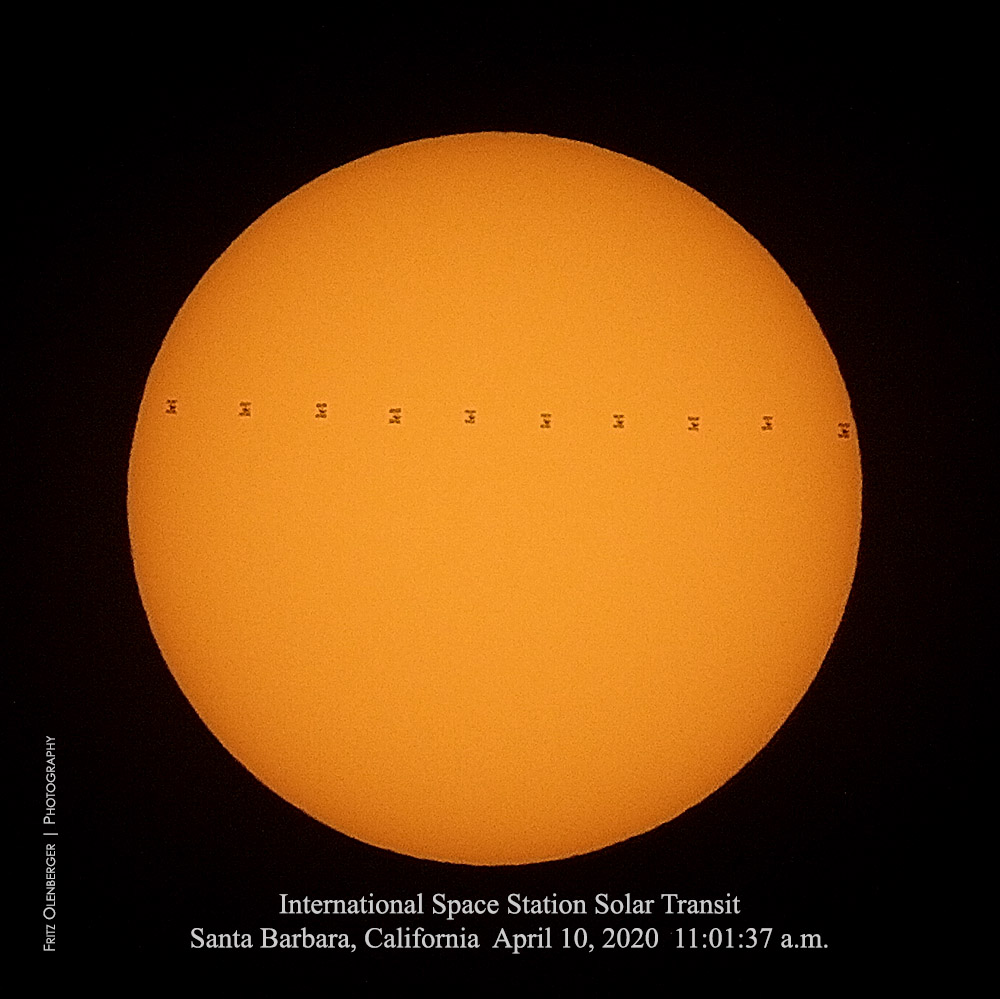 Photographer:
olenberger@cox.net
Location of Photo:
Santa Barbara, California
Date/Time of photo:
April 10, 2020; 11:01 a.m.
Equipment:
Canon 5D Mk IV with Tamron 150 - 500mm lens and Thousand Oaks Optical solar filter, Gitzo tripod with Arca Swiss Monoball head
Description:
On Friday, April 10 at about 11:01 a.m. Santa Barbara time (18:01 UTC), the International Space Station made a solar transit that was visible (with magnification) across a 3.8 mile path that passed through Santa Barbara. In the center of this path, the duration of the transit was only 0.63 seconds. I captured the event from Laguna Blanca School in Hope Ranch. This image is a composite of frame grabs (every other frame) from a 4K video shot at 30 frames per second, at a shutter speed of 1/2000 sec. I shot the video with a Canon 5D Mk IV and 600mm lens with a solar filter. Mother Nature was kind enough to provide a clear sky after five days of rain showers. NASA astronaut Chris Cassidy, along with Anatoly Ivanishin and Ivan Vagner of the Russian space agency Roscosmos joined Expedition 62 Commander Oleg Skripochka of Roscosmos and NASA astronauts Andrew Morgan and Jessica Meir aboard the International Space Station when the hatches between the Soyuz spacecraft and the orbiting laboratory officially opened at 9:28 a.m. PDT on Thursday, April 9. The ISS orbits the earth every 92 minutes, or just over 15 orbits per day. It travels at a speed of 17,100 miles per hour, at an altitude of 254 miles. It is slightly larger than a football field.
Website: