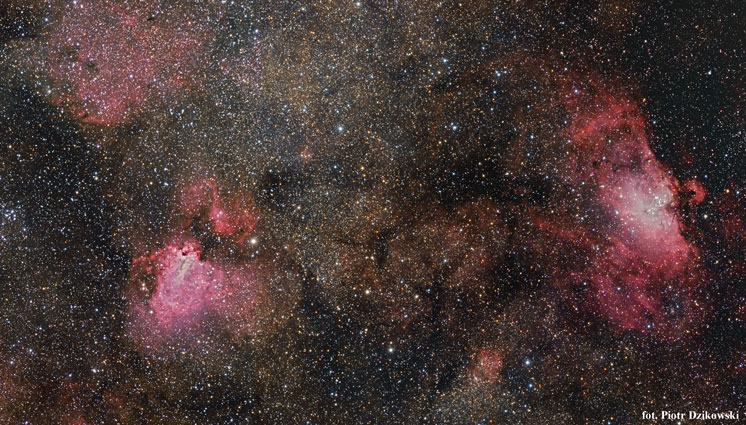 Photographer:
dzikowskip@piomarhouse.pl
Location of Photo:
New Itilo, Greece
Date/Time of photo:
8-9 August 2013
Equipment:
I used Takahashi FSQ106ED, Takahashi EM200USD, SBIG 11000M, HALRGB
Description:
The Swan Nebula and the Eagle Nebula are in Sagittarius close to the center of our Galaxy. The Swan (M17) is on the left where as The Eagle (M16) is on the right. The deep, wide-field image shows the richness of this region. They lie along the spiral arm suffused with reddish emission charactistic of atomic hydrogen gas, and dusty dark nebulae. In fact, the center of both nebulae are locations of well-known close-up images of star formation from the Hubble Space Telescope. M17, also called the Omega Nebula, is about 5500 light-years away, while M16 is some 6500 light-years distant. The frame covers over 3 degrees and it is the composition of two HaLRGB images. Every image is the result of: Ha16x15min, L20x5min, R20x5min, G11x5min, B11x5min.