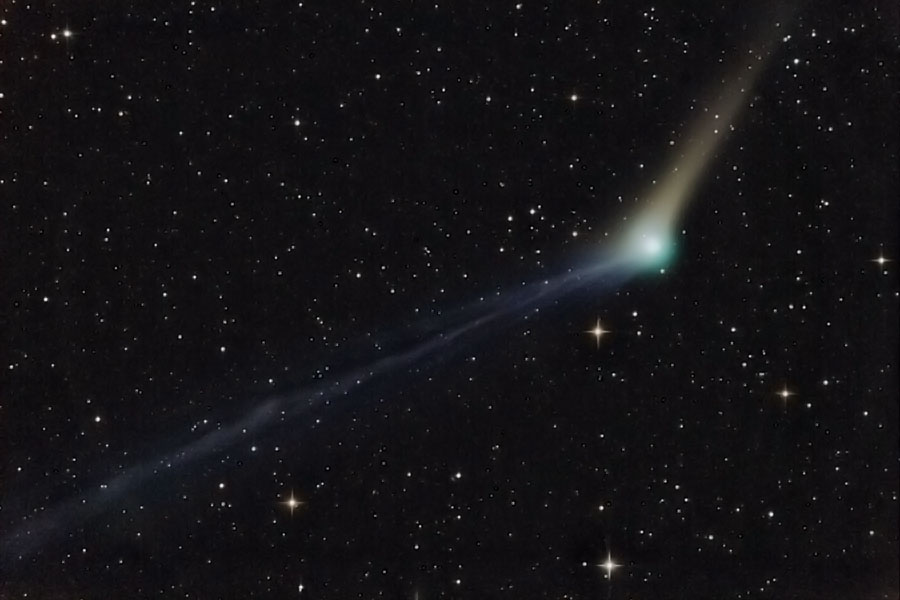 Low in the east before dawn, 6th-magnitude Comet Catalina (c/2013 US10) showed two widely separated tails on December 6, 2015. A comet's thin blue ion (gas) tail quickly becomes entrained in the solar wind and blows rapidly straight away from the direction of the Sun. The brighter yellow dust tail is less influenced by the Sun, moves away from the comet much more slowly, and follows along with the comet's orbital motion for longer. Brian Ottum took this image with a 10-inch f/5 Newtonian reflector from Rancho Hidalgo, New Mexico. Click for larger view.
Photographer:
ottum@comcast.net
Location of Photo:
Rancho Hidalgo, NM
Date/Time of photo:
12:30UT, Dec 6, 2015
Equipment:
Personal remote-control 10" f/5 Newtonian, Canon 5D Mark III (modified), Paramount MX
Description:
So cool to see the "anti-tail", which I know is a misnomer. The short bright tail are the vapors blown back by the force of the sun.
Website: