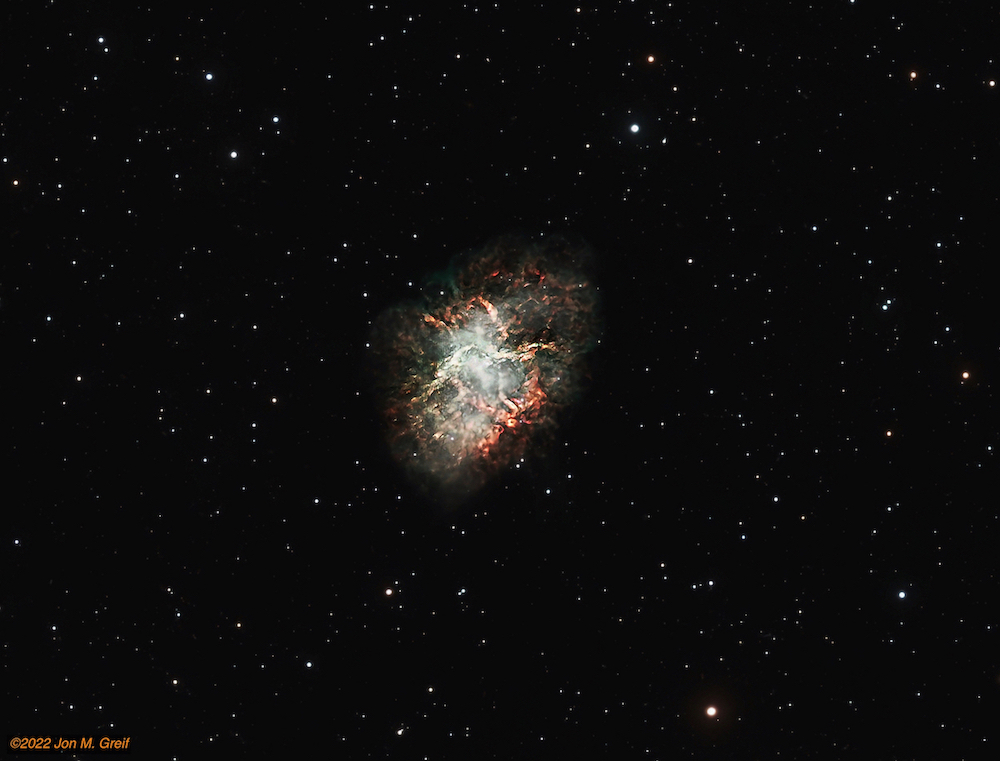 Photographer:
Jon Greif
Location of Photo:
Anza Borrego Desert State Park, CA, USA
Date/Time of photo:
December 23-25, 2022, from 6 pm to 6 am PST
Equipment:
Takahashi FSQ-85ED with 1.01x flattener/reducer. ZWO ASI533MC Pro imaging camera. Optolong L-Pro filter. Rainbow Astro RST-135 Mount. ZWO 30mm Mini Guide Scope with ZWO ASI290 Mini guide camera. ASIAIR Plus controller. Processed in Pixinsight 1.8.9.
Description:
This is the Crab Nebula, catalogue designation M1, a supernova remnant and pulsar wind nebula in the constellation of Taurus. The common name comes from William Parsons, 3rd Earl of Rosse, who observed the object in 1842 using a 36-inch telescope and produced a drawing that looked somewhat like a crab. The nebula was discovered by English astronomer John Bevis in 1731, and it corresponds with a bright supernova (explosion of a star) recorded by Chinese astronomers in 1054. The nebula was the first astronomical object identified that corresponds with a historical supernova explosion. The image is the result of 17 hours of exposure time through an 85 mm (3.3 inch) refracting telescope, over 2 nights (December 23-25) in the Anza Borrega Desert State Park.
Website: