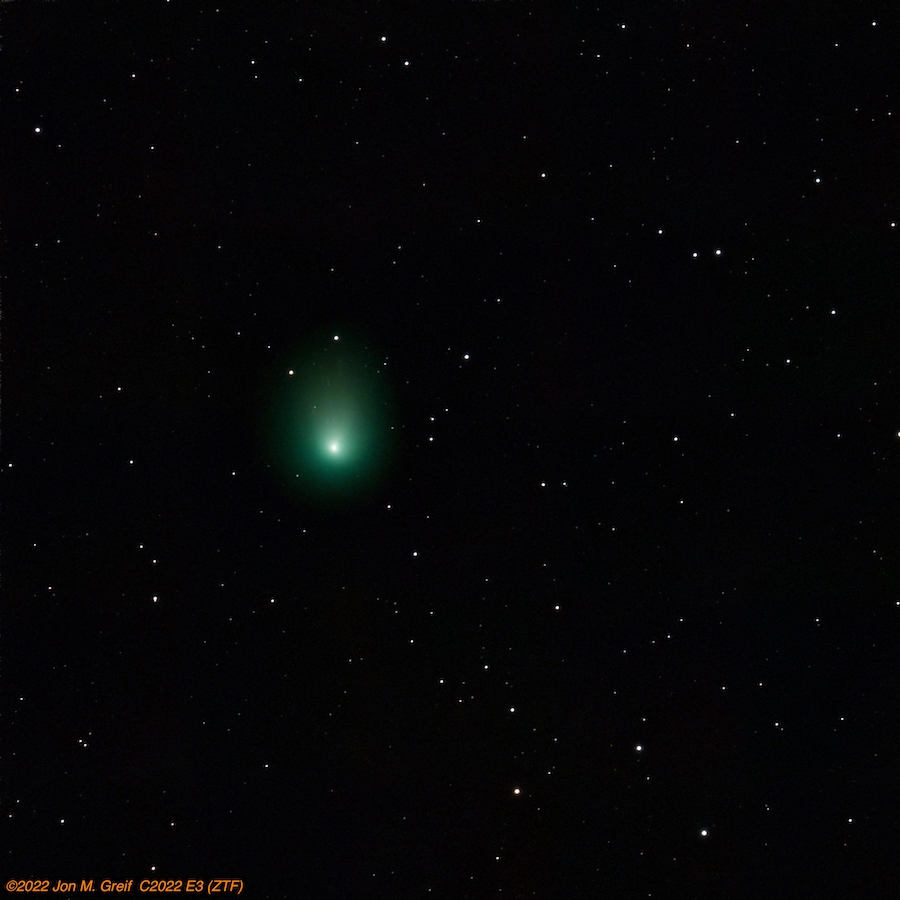 Photographer:
Jon Greif
Location of Photo:
La Jolla, CA, USA
Date/Time of photo:
January 13, 2023, between 4-6 am PST
Equipment:
Bortle 7, Last quarter moon. 38 120 sec subs (76 minutes integration time). Takahashi FSQ-85ED with 1.01x flattener/reducer. ZWO ASI533MC Pro imaging camera. Optolong L-Pro filter. Rainbow Astro RST-135 Mount. ZWO 30mm Mini Guide Scope with ZWO ASI290 Mini guide camera. ASIAIR Plus controller. Processed in Pixinsight 1.8.9.
Description:
Imaged from our deck between 4 and 6 AM this morning, the "Green Comet," C/2022 E3 (ZTF) is 62,526,577 miles from Earth and getting closer. It was at its closest to the Sun yesterday (perihelion) and will be closest to the Earth on February 2 -- 44 million miles away. Astronomers discovered Comet C/2022 E3 (ZTF) using the 48-inch (1.2-meter) Samuel Oschin robotic telescope, part of the Zwicky Transient Facility (ZTF), located at Mt. Palomar in southern California. They discovered it on March 2, 2022, and it was the 3rd such object discovered in the fifth half-month (A, B, C, D, E) of the year. Thus, 2022 E3 (ZTF). It's still not "naked eye" visible, but is visible to small telescopes (like mine) and may soon be visible in binoculars. It's currently in the constellation Corona Borealis in the ENE sky just before dawn. On February 10, 2023, the comet will appear extremely close to Mars, and may be binocular visible as a small "fuzz-ball."
Website: