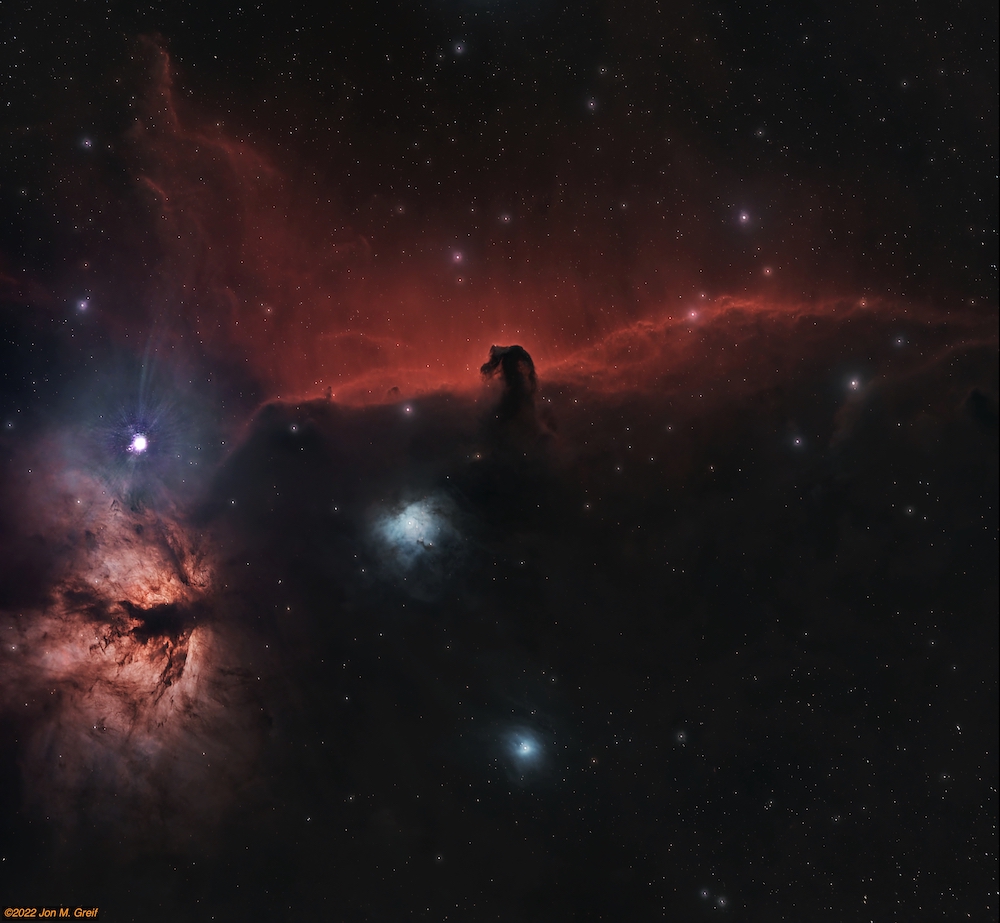 Photographer:
Jon Greif
Location of Photo:
Anza Borrego Desert State Park, Borrego Springs, CA, USA
Date/Time of photo:
December 25-26, 2022, between 6 pm and 6 am PST
Equipment:
Takahashi FSQ-85ED with 1.01x flattener/reducer. ZWO ASI533MC Pro imaging camera. Optolong L-Pro filter. Rainbow Astro RST-135 Mount. ZWO 30mm Mini Guide Scope with ZWO ASI290 Mini guide camera. ASIAIR Plus controller. Processed in Pixinsight 1.8.9.
Description:
Lots going on in this image from the Belt of Orion. Prominent in the center is the Horsehead Nebula (Barnard 33), a dark nebula extending into IC 434 the red, star forming area above the Horsehead. The bright star on the left is Alnitak, the brightest star in Orion's belt - the Eastern (left-most) star in the belt. Below Alnitak is the Flame Nebula (NGC 2024). Also several blue reflection nebulae -- gaseous clouds lit up by bright stars. The Horsehead Nebula was discovered by the Scottish astronomer Williamina Fleming on a photographic plate at the Harvard College Observatory in 1888. Fleming worked as a human "computer," helping with the processing of astronomical data and the photographic classification of stellar spectra. She was one of the founding members of the Harvard Computers. She was hired by Edward Charles Pickering, the director of the observatory, in whose home she had previously worked as a maid. This image was from 4 hours of exposure data collected on the last of 3 nights in the Anza Borrego Desert State Park over last week's New Moon.
Website: