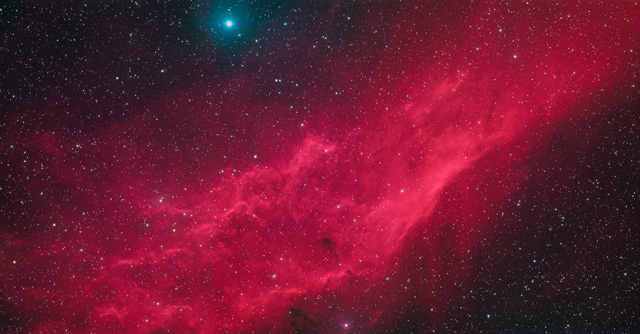 Photographer:
Matt Thomas
Email:
Location of Photo:
JMSM Observatory, Mayhill, NM
Date/Time of photo:
October 29 through November 7, 2007
Equipment:
# Telescope: TMB152, 1200mm FL # Mount: Paramount ME # Camera: SBIG STL-6303 CCD, AstroDon E-Series TruBalance Ha and RGB Filters
Description:
Three panel mosaic of the California Nebula. Exceptionally deep (both in detail and color) and much higher resolution than normally seen on this object (due to the mosaic at longer focal length). Full resolution image is ~5800x3000 pixels. Image is a combination of Ha and RGB data. The Ha data was used for the nebula in the red channel (100%) and partially in the blue channel (15%). The red data was used only for the stars in the red channel. The green and blue data were used for the entire image. Total exposure time for the entire image is 26 hours 18.2 minutes.
Website: