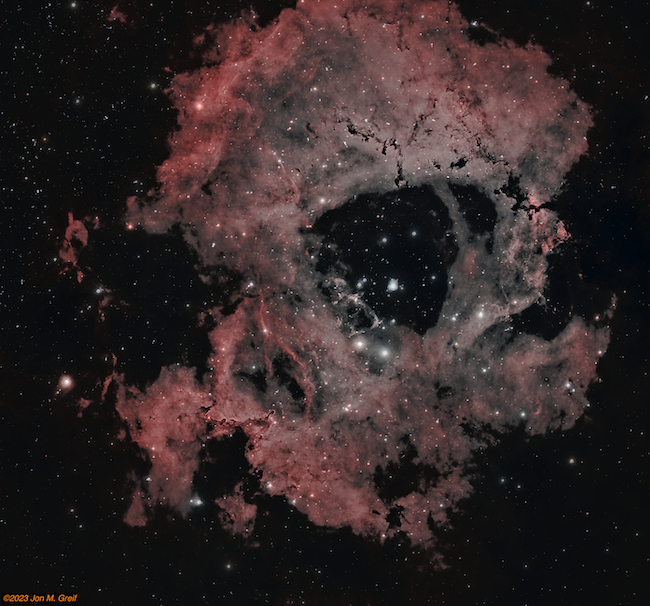 Photographer:
Jon Greif
Location of Photo:
Anza Borrego Desert State Park and La Jolla, CA USA
Date/Time of photo:
January 20-24, 2023, between 10 pm and 3 am PST
Equipment:
Takahashi FSQ-85ED with 1.01x flattener/reducer. ZWO ASI533MC Pro imaging camera. Optolong L-Pro filter. Rainbow Astro RST-135 Mount. ZWO 30mm Mini Guide Scope with ZWO ASI290 Mini guide camera. ASIAIR Plus controller. Processed in Pixinsight 1.8.9.
Description:
The Rosette Nebula, catalogued NGC 2237 is a flowery emission nebula composed of hot hydrogen gas, giving it its reddish color. Inside the nebula lies an open cluster of bright young stars designated NGC 2244. These stars formed about four million years ago from the nebular material and their stellar winds are clearing a hole in the nebula's center and causing the hydrogen gas to glow. The Rosette Nebula spans about 130 light-years across, lies about 5200 light-years away, and can be seen with a small telescope towards the constellation Monoceros (the Unicorn). This image is a stack of 39 five-minute exposures, about half of which were taken in the Anza-Borrego Desert State Park weekend before last, during the most recent new moon, and the other half from our deck on two clear nights last week.
Website: